Head Injuries On-the-Job Covered by Workers' Compensation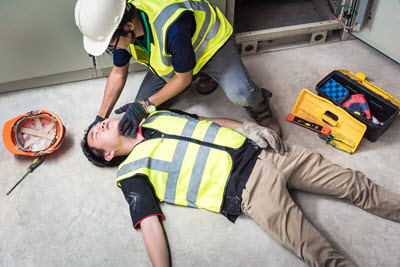 There are many ways in which head injuries occur in workplace environments. Some of the most common causes for these injuries include getting hit by a falling or flying object, explosions, falls, and other accidents involving heavy machinery or motor vehicles. Regardless of how you may have sustained a head injury on-the-job, if the injury is serious enough to keep you out of work for a prolonged period of time, you have the right to receive workers' compensation benefits to help you cover lost wages, medical expenses, and potentially more.
Serious head and facial injuries
Trauma to the head, which includes the facial area, can result in a variety of injuries, including:
Injuries to the ear or eye
Injuries to the jaw and face
Skull fractures
One of the most devastating and complex injuries to the head is a traumatic brain injury (TBI). These injuries, regardless of whether mild or severe, usually involve a serious medical issue that requires urgent medical attention. Some TBIs can lead to long-term physical or cognitive impairments that can prevent you from working for months or even longer.
Broken facial bones and skull fractures often result in significant temporary impairment and can cause permanent disfigurement. Injuries to the eyes can occur from flying debris on a construction site or from chemicals splashing into the eyes of a technician in a laboratory. You may also suffer a 2nd or 3rd degree burn injury so severe that it requires skin grafts, or lose your vision. On some industrial construction sites, loud noises can damage workers' eardrums, resulting in temporary or long-term hearing damage. Any of these aforementioned injuries can make it extremely difficult to return to work in the short term.
With some injuries, such as severe burns, scarring is unavoidable, and a healing process may be necessary before the individual can effectively perform his or her job duties, especially if those duties involve strenuous physical labor. The same is true for certain deep facial cuts, that if reopened accidentally while performing physical labor, may require further treatment or stitches. With these types of injuries, you may need to accept modified job tasks involving fewer hours or miss work altogether until the injuries sufficiently heals.
Although you may have a good idea about the extent of your head injury, it is another thing to prove your eligibility for workers' compensation. An experienced injury attorney can help ensure your claim is accepted and you receive the full benefits you are owed for lost income, medical expenses, and permanent disabilities.
Workers' compensation for head injuries sustained at work
You may file a claim for benefits while providing evidence of the accident and your injuries, along with your medical expenses. The workers' compensation insurance carried by your employer should cover a percentage of your lost wages and your medical bills. Depending on the extent of your injuries, you may be able to receive permanent disability benefit payments.
At Plaxen Adler Muncy, P.A., we are experienced advocates serving the interests and needs of injury victims across the state of Maryland area. Our head injury attorneys are here to help you secure the compensation you were owed for any head or brain injury you have sustained resulting from another person's negligence. To set up a free consultation, give us a call today at 410.730.7737, or drop us a message through our contact form.