Nurses and Workers' Compensation in Maryland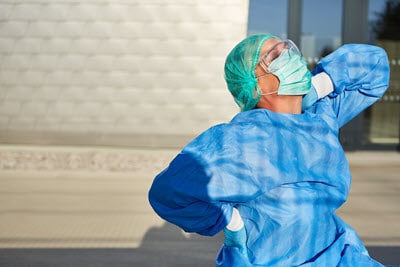 Injuries occur on the job in various fields of work. However, healthcare workers, like nurses, face a particularly high risk of sustaining injuries during the course of carrying out their work duties.
According to the Occupational Safety and Health Administration (OSHA), hospitals are among the most dangerous places to work in the United States. For every 100 employees in hospitals who work full-time, there are approximately seven work-related injuries and illnesses.
Nurses who operate in hospitals are usually eligible to receive workers' compensation after an injury experienced at work, or if they become ill from performing their job duties. Workers' compensation benefits should be available to cover everything from injury treatment to disability benefits as needed.
What about direct care workers?
Direct care workers, like home nursing aides, may not be eligible for workers' compensation benefits if they are employed directly by a family and not by a third-party employer or service. A direct care worker who is ineligible to receive workers' compensation, however, may be able to file a personal injury lawsuit if he or she were injured due to hazardous conditions or another's negligence while caring for a patient.
Common injuries and illnesses sustained by nurses on the job
Some of the most common reasons why nurses might be entitled to workers' compensation benefits include:
Illnesses due to exposure: Nurses are particularly susceptible to exposure to contagious illnesses and pathogens. This is due to their continual interaction with patients or through receiving an accidental needle stick while providing care. Nurses are commonly diagnosed with respiratory issues and skin conditions.
Overexertion injuries:Nurses are required to perform a significant amount of physical labor, including positioning, lifting, and transferring patients from one area to the other. Even when nurses follow best practices, overexertion can occur, leading to injuries. More than half of the injuries experienced by healthcare workers necessitating days off from work are due to strains and sprains.
Slips and trips:It is easy for nurses to slip when attempting to move patients or trip over items in crowded spaces. Regardless of whether a nurse slips and falls or slips without falling, he or she can still sustain injuries that require days off from work to recover.
Acts of violence: Violence in healthcare settings is a real issue many nurses face. During a 12-month period, about one in every five registered nurses and nursing students have reported being physically assaulted.
If you have suffered any of the job-related injuries or illnesses mentioned above, an experienced legal professional can help you understand your right to receive workers' compensation.
At Plaxen Adler Muncy, P.A. we help injured Maryland workers access the workers' compensation benefits to which they are entitled under the law. If you're a nurse or other medical professional who needs help filing for benefits or are facing obstacles receiving the compensation you need, let us know. To schedule a free consultation about your case, call us today at 410.730.7737 or drop us a message through our contact form.