Hazmat Violations Plaguing the Trucking Industry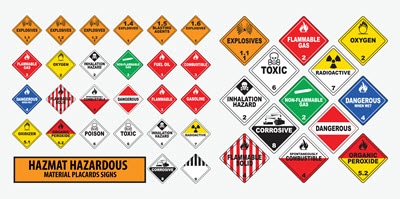 What if, when driving alongside a commercial truck, you had to worry not only about the possibility of a fatal truck accident, but also being exposed to hazardous materials in the midst of the accident? Unfortunately, that is the reality many motorists find themselves in due to the notorious hazmat violations that have been broken by many truckers.
The Commercial Vehicle Safety Alliance (CVSA) performed an unannounced inspection initiative this summer in an effort to tackle safety issues related to the transportation of hazardous materials and dangerous goods. Between June 21 and June 25, commercial motor vehicle inspectors from Canada, Mexico, and the United States performed 13,471 inspections of vehicles responsible for transporting hazardous materials. From the 10,905 commercial trucks and 8,363 hazardous materials inspected in the United States and Canada, there were 2,714 violations reported.
What were some of the containment issues discovered during the inspections?
Some of the containment issues discovered from the inspections included containment packaging violations, containment labeling violations, loading and securement violations, and package leaking violations. When some materials become exposed to other materials or come in contact with other materials, they can become extremely volatile.
Mark Barlar, the director of risk services for Reliance Partners, declares that there are a lot of small nuances that go into the hazardous material regulations that many drivers are not familiar with. For example, certain acids react violently after coming into contact with certain metals.
What are some of the common hazmat violations committed by truckers?
According to the Federal Motor Carrier Safety Administration (FMCSA), some of the common hazmat violations committed by truckers are:
Failing to properly secure a package in the truck. This was the leading hazmat violation. Truckers who are in a rush tend to make this mistake. Truckers also make the mistake of not placing the proper placards on both sides of the truck, making it aware to the public that the truck is transporting hazardous materials.
Possessing the improper shipping papers. The trucker must possess shipping papers to transport hazardous materials, and the papers must be filled out correctly or the trucker could risk a violation and a fine.
Placard display violations. Another common, dangerous violation involves placarding. If a truck contains placards that are similar to hazardous material placards, the trucker must remove them immediately. If the truck's placards are damaged or have deteriorated, they must be replaced.
Failing to provide the proper emergency response information. This is a serious hazmat violation. Truckers must have the necessary emergency response information available in case a trucking accident occurs. This standard is in place to keep both the trucker and all parties involved in the accident safe. Hazmat inspectors can ask for emergency response information at any time of inspection, and if the trucker does not have the information nearby, the trucker can receive a violation.
What are some of the reasons why truckers are committing hazmat violations?
Barlar believes that part of the reason why truckers are committing hazmat violations is that they are not fully aware of the necessary requirements for transporting hazardous materials. Many truckers do not know that hazardous materials require secondary securement methods. Because the materials were already sealed to dispatch, some truckers do not even bother to inspect the materials themselves.
Another reason for truckers committing hazmat violations is that truckers may not use or even know the proper markings and labels for hazardous materials. Barlar declares that it is typical for truckers to display the wrong signs because some of the signs and markings can look similar.
Why is it dangerous when truck drivers commit hazmat violations?
Truckers are not only endangering themselves when they commit hazmat violations. Other vehicle drivers, motorcyclists, and even pedestrians can become seriously injured if any hazardous materials were to be ejected from the truck. If the truck driver is involved in a truck accident, the likelihood of the other party being exposed to the hazardous material is even greater.
Plaxen Adler & Muncy, P.A. is a premier personal injury law firm in Maryland. For more than 35 years, we have stood up for our clients in the face of insurance companies and trucking companies who put their profits before people's safety. To schedule a free consultation with an experienced Maryland truck accident lawyer, please call 410-730-7737 or complete our contact form. We proudly serve clients throughout Maryland.