Can You Collect SSDI for Back Pain?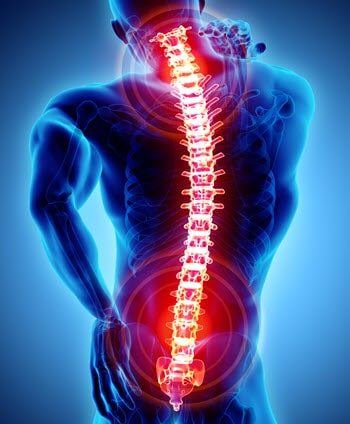 For some, the infrequent twinge or pain in the back may be just a small annoyance, but for others who experience chronic back pain, they can find it extremely difficult to function normally on a daily basis. Often, these pains compel individuals to stay off their feet for hours at a time and make working difficult. For those who suffer from the effects of long-term injuries or illnesses, medications are not always effective and can also have unpleasant side effects.
If you suffer from severe, chronic back pain, you may have considered applying for Social Security Disability (SSDI) benefits. If so, it is important to understand what factors the Social Security Administration (SSA) will look at when evaluating your claim.
Your vocational factors
In determining your eligibility for Social Security Disability, the SSA will evaluate your previous employment (vocational factors), your age, level of education, and limitations caused by your back pain to determine if there is another type of work you could do. You could have an easier time, generally speaking, obtaining approval for SSDI if you have a history of unskilled work, have limited education, and are over the age of 50.
Your limited ability to function and work
You will need to show the SSA that your chronic back pain is so debilitating that you are unable to carry out normal work activities on a regular basis. The SSA will need information demonstrating that, as a result of your condition, you are limited in your ability to sit for long periods, stand, walk, and/or lift. The SSA will look at how often you experience these pains and how often you would miss work as a result. If you have any other physical limitations that prevent you from performing certain work tasks, the SSA will take those into account as well.
When reviewing a disability application, the SSA evaluates the applicant's capability to work at any type of full-time work position. If the SSA determines that you have the ability to perform some other type of work than your previous type of work, your claim for disability will likely be denied.
Your medical records
The SSA will need to see confirmation in your medical records that your doctor has diagnosed you with recurring, chronic back pain. Doctors can perform diagnostic tests, such as x-rays, CT scans or MRIs to find objective evidence of what is causing your pain.
Additional items the SSA will check for in your medical records include:
Surgical or injection therapy related to your back pain
Notes from your doctor indicating the severity and frequency of your pain
Records of the treatments and medications you have received, along with their results
Someone who applies for SSDI with debilitating back pain, but has not tried different medications or treatments, may lack credibility with the Social Security Administration.
In some cases, the SSA may ask your doctor(s) to answer a questionnaire about your condition. They may also ask for feedback from members of your family or friends who regularly spend time around you. You can apply for SSDI by calling the SSA at (800) 772-1213, visiting a local SSA office or going online at www.ssa.gov/applyfordisability.
At Plaxen Adler Muncy, P.A., we understand the difficulties individuals with disabilities and chronic conditions face when applying for Social Security Disability benefits. If you need to apply for disability benefits or if your application has been denied, we are here to help. To arrange a free consultation, call our Maryland Disability attorneys today at 410.730.7737, or use our contact form to send us a message.