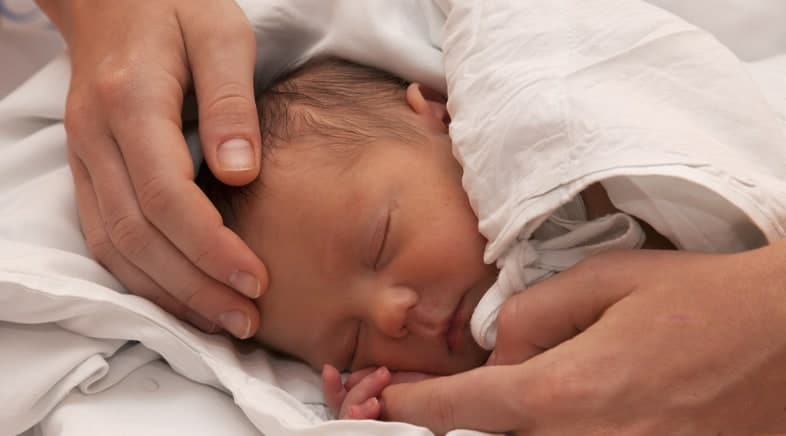 Maryland Birth Injury Attorneys
Representing families whose children were catastrophically harmed because of medical negligence
Preventable birth injuries have devastating consequences for Maryland families. Plaxen Adler Muncy, P.A. attorneys have more than 35 years of experience helping parents cope with the effects of this type of medical malpractice. Families need to understand that labor and delivery errors can lead to years of corrective treatment and extraordinary medical care. We have the expertise and sensitivity to hold the negligent parties accountable, and to provide a secure future for these children. The birth injury lawyers at Plaxen Adler Muncy, P.A. work aggressively to help these families from our offices throughout Maryland.
How do birth injuries differ from birth defects?
A birth injury is a physical injury that occurs during the labor and delivery process. They are most often caused by acts of medical negligence and malpractice.
Birth injuries are different from birth defects. Birth defects are often congenital abnormalities that develop in utero. In some cases, birth defects can be neither detected nor prevented. In other cases, birth defects may be the result of medical negligence. Examples may include:
Prescribing drugs that have been linked to birth defects, such as Zofran, Paxil, Prozac, or Glyburide
Failing to advise patients who may be at risk of genetic defects or abnormalities
Failing to perform diagnostic tests
Improperly performing tests or ultrasounds
Failing to diagnose and/or treat maternal infections which spread to the fetus
Common types of birth injuries
While some birth injuries heal quickly on their own and the child suffers no long-lasting injury, others require immediate medical attention. It is these more severe injuries that, if preventable, can make a doctor liable for a medical malpractice lawsuit. Common birth injuries include:
Cerebral palsy. Although there are several causes of cerebral palsy, one reason can be a difficult childbirth, where the infant is deprived of oxygen. Lack of oxygen can cause problems with body movement, muscle coordination, seizures, and weak or contracted muscles.
Brachial palsy. Brachial plexus injury may result when a doctor pulls too hard on a baby's head or shoulder during delivery. Damaging the brachial group of nerves near the baby's shoulder can leave the baby's arm weak, numb, or paralyzed.
Hypoxic-ischemic encephalopathy (HIE). HIE is a brain injury caused by oxygen deprivation. It is a leading cause of death and injury in newborns, and unless it is diagnosed and treated immediately, the damage to the child's brain may be severe.
Persistent pulmonary hypertension of the newborn (PPHN). PPHN is a condition resulting in circulatory problems that can lead to a lack of oxygen and possible brain damage or death. PPHN can be caused by a complicated delivery.
Umbilical cord injuries. Umbilical cords are the literal lifelines: they deliver nutrients and oxygen to the fetus. If the cord is compressed, becomes wrapped around the baby's neck, inserts into the membranes instead of the placenta (velamentous cord insertion), or develops abnormally, it could lead to permanent brain damage for the child, or even the death of the child.
Skull fractures. Babies have multiple soft spots (called fontanelles) when they are born, to allow for easier passage through the birth canal. Excessive force during labor – either through use of forceps and/or vacuum extractors, or by excessive contractions caused by labor-inducing drugs like Pitocin – can cause the unfused sections of your baby's skull to fracture. This can lead to hemorrhage or physical injury to the brain.
Shoulder dystocia. With shoulder dystocia, the baby's shoulder gets stuck behind the mother's pelvic bone during delivery. This may cause the baby to be unable to breathe, which can result in brain damage. The baby's arm can also suffer paralysis through pinched nerves (brachial or Erb's palsy) if not freed properly. Shoulder dystocia may also to a broken collarbone.
Cephalohematoma. This is a bleed under the cranial bone. While these injuries may clear up on their own, they could also indicate a more serious conditions such as jaundice, anemia, or infections.
Facial paralysis. Excessive use or forceps or vacuum extractors are a common cause for facial paralysis. Damage to the facial nerves may require additional surgery to correct, or may be permanent.
Stillbirth/wrongful death. In the most tragic circumstances, an act of negligence can lead to the stillbirth or wrongful death of the baby. Prescribing a dangerous drug or failing to monitor the fetus can both lead to the loss of a child.
Birth injuries are not always readily noticeable. But once they are, you should consult an experienced birth injury lawyer in Maryland to see if grounds exist for medical malpractice. If your doctor is responsible for your child's birth injury, you can make a claim for damages.
Negligent maternal care can lead to birth injuries
In 2018, USA Today issued an explosive expose on the rising maternal injury and death rates in the U.S. Per their findings, the United States had a greater percentage of maternal injuries and fatalities than any other developed nation: about 50,000 mothers suffered serious injuries, and about 700 die each year. The leading causes of these injuries and deaths were undiagnosed/untreated preeclampsia and post-partum hemorrhage.
Preeclampsia affects blood pressure, which can lead to stroke. If left untreated, it can lead to eclampsia, a condition which causes maternal seizures.
Post-partum hemorrhage can be caused by several conditions, including:
Placenta previa
Placental abruption
Untreated infections
Vasa previa
Post-partum negligence can lead to severe physical or neurological disabilities for the child; it can also cause lasting damage to the mother. Both mother and child may require a lifetime of care.
What acts of medical negligence can lead to a birth injury?
Failure to monitor mother and child
Failure to read and/or update electronic health records
Failure to diagnose and/or treat life-threatening conditions for the mother and/or child
Failure to diagnose and/or treat infections
Failure to diagnose and/or treat conditions like gestational diabetes
Medication errors
Testing errors
Excessive use of forceps or vacuum extractors
Prolonged labor
Who can be held liable for a birth injury in Maryland?
Expecting mothers will be treated by several medical professionals over the course of their pregnancy, labor, and post-partum care. As such, multiple parties could be found negligent if the mother or baby sustains an injury, including:
OB/GYNs
Anesthesiologists
Pharmacists
Attending nurses
Medical technicians
Hospital administrators
Drug manufacturers (in cases where a dangerous drug causes a birth defect)
How much is my birth injury claim worth?
There is no set answer to this question because every injury and loss is different. If a medical professional were negligent and it led to a birth injury, you could be entitled to claim damages for:
Medical bills and expenses, including the costs for ongoing care and rehabilitation
Educational expenses if your child has special needs because of his or her injury
Lost wages and/or loss of future earning potential for the parents
Loss of future earning potential for the child
Costs of home modification
Pain and suffering for mother and child
Disfigurement for mother and/or child
When should I file a birth injury claim in Maryland?
Under Maryland law, parents can file a birth injury claim in Maryland three years from the date of discovery, but never later than 5 years from date of claim – whichever is earlier.
There are exceptions to every rule, which is why it is best that you contact a Maryland birth injury attorney as soon as possible so we can get started on your case. At Plaxen Adler Muncy, we are skilled in fighting for the rights of children who cannot fight for themselves. We want to ensure your child is taken care of for life.
Experienced Maryland birth injury lawyers
If your child suffered a birth injury, call the Maryland attorneys of Plaxen Adler Muncy, P.A. at 410-730-7737 or fill out our contact form. We serve clients throughout the state and have law offices in Baltimore, Columbia, Towson, Crofton, Owings Mills, Dundalk, Westminster, Greenbelt, and Silver Spring. If requested, we are available to meet you at your home or at the hospital.
Related Articles:
What Is Hypoxic Ischemic Encephalopathy (HIE)?
The Alarming Frequency of Birth Injuries
The Dangers of Umbilical Cord Accidents
Glyburide May Increase the Risk of Birth Defects in Mothers with Gestational Diabetes
FDA Warns that Diflucan May Increase a Woman's Chance of Miscarriage