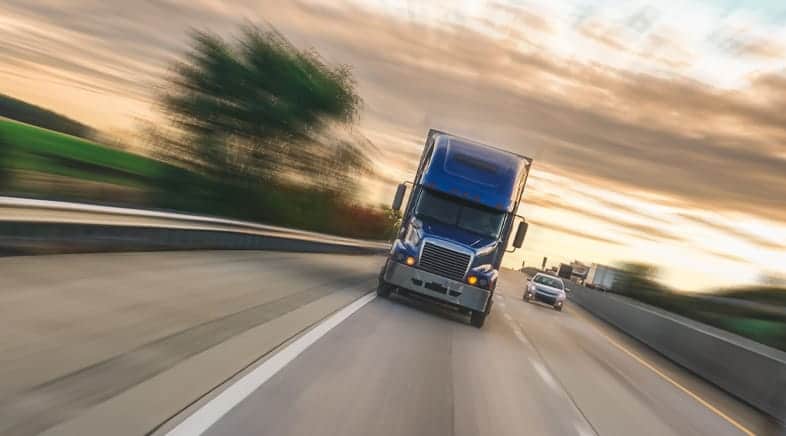 Trusted Maryland Truck Accident Attorneys Fight for Your Future
Skilled representation for victims of driver negligence, defective parts, and dangerous trucking policies
Maryland is a major trucking route, as it connects to the entire Eastern Seaboard through I-95, and runs through large swaths of the western United States via U.S. Route 70. An almost endless number of commercial truck drivers pass through our state on a daily basis. This increase the risk of being in a collision with a commercial vehicle.
Plaxen Adler Muncy, P.A. offers diligent representation for victims of trucking accidents. Our attorneys in Maryland have the skills, resources, and experience necessary to take on cases involving independent and national trucking companies. At our firm, we only handle personal injury cases, and we only work on behalf of the injured. Our in-depth knowledge of personal injury law and the statutes which guide commercial truck drivers make us the ideal choice for people seeking compensation that can help them get well.
Tractor trailers have to follow same rules of the road as automobiles, so you would think that tractor trailer cases are similar to car accident cases; but, in fact, tractor trailer cases often have elements that make them more complicated. Tractor trailers have special safety regulations. Tractor trailers have rules about how many hours a driver can drive. Tractor trailer drivers have to keep designated logs.
At Plaxen Adler Muncy, we know the regulations that are required on over the road tractor trailers, and we have a special expertise in handling tractor trailer cases.
What can our truck accident lawyers do for you?
After a collision with a tractor-trailer, a delivery truck, or any kind of commercial vehicle, you're going to need help. Our lawyers coordinate between your car insurance and health insurance companies, help you secure a rental vehicle while yours is in for repairs, and document your injuries so we can present those findings to a jury, or in settlement negotiations.
We know that your expenses can grow quickly after a crash, and we can help you with your repair bills, your rental car fees and your towing fees. We also work to ensure that your medical expenses are paid in full, that you receive compensation for your lost wages, and that you are fairly compensated for your pain, suffering, scarring and/or disfigurement. Because we prepare every case as though we could go to trial, we are often able to obtain a better settlement offer for our clients from the start.
At Plaxen Adler Muncy, P.A., our Maryland truck accident lawyers treat every truck accident with the same level of determination and attention to detail. We use accident reconstruction experts to help build your case, and petition trucking companies for the black boxes and/or video recordings that are present in their trucks, as these often provide crucial evidence in accident lawsuits.
Common causes for truck accidents in Maryland
Any motor vehicle accident can be serious, but those involving commercial trucks can be especially catastrophic. Plaxen Adler Muncy, P.A. offers comprehensive counsel in cases involving:
Dangerous commercial trucks besides tractor-trailers
Some other dangerous commercial vehicles besides a traditional tractor-trailer include:
Why are truck accidents different from other accidents?
Any car accident can be incredibly violent, leading to devastating injuries or fatalities. Now, consider the size of a semi-truck. A loaded tractor-trailer can weigh up to 80,000 pounds, powered by engines with more than 400 horsepower. That's a lot of weight and inertia for something traveling in excess of 70mph on the highway.
Because of this, trucks need a lot of stopping distance, even in the best of circumstances. Depending on speed and road conditions, it can take a truck the length of almost two football fields to come to a complete stop. If there's a brake failure or the driver falls asleep behind the wheel, the result can be catastrophic.
National trucking regulations
Truckers and trucking companies are subject to certain laws and regulations to ensure the safety of other motorists (as well as their own):
Despite these and other safety regulations, some drivers and trucking companies continue to defy them. When an accident occurs because of this negligence and people are injured or killed, it's up to our attorneys to make things right.
Related information on truck accidents in Maryland
Let us help you after an accident with a commercial truck in Maryland
Plaxen Adler Muncy, P.A. is a premier personal injury law firm in Maryland. For more than 35 years, we have stood up for our clients in the face of insurance companies and trucking companies who put their profits before people's safety. To schedule a free consultation with an experienced Maryland truck accident lawyer, please call 410-730-7737 or contact us. We proudly serve clients in Columbia, Baltimore, Towson, Silver Spring and throughout Maryland.