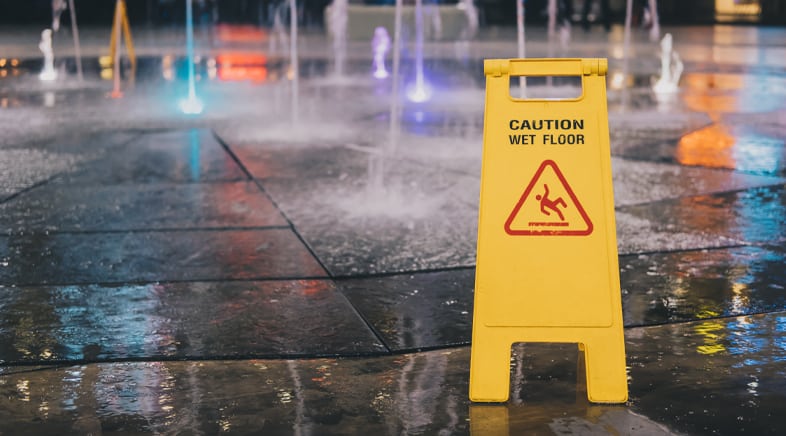 Skilled Slip and Fall Lawyers Offering Aggressive Advocacy For Victims in Maryland
Dedicated attorneys protecting families in Baltimore, Columbia and beyond
Property owners are required to keep their spaces safe. When you slip and fall, or trip and fall on someone else's unsafe property, the owner may be held liable for your injuries. At Plaxen Adler Muncy, P.A., we help people in Baltimore, Columbia and throughout Maryland when someone else is responsible for their falls.
Our impressive track record includes winning the largest slip and fall verdict in Howard County history, and is one of the many reasons why we are the premier personal injury law firm in the state. Our slip and fall lawyers' thorough preparation for every case combined with our aggressive approach during settlement negotiations or during jury trials helps us help our clients in the most effective and efficient way.
What is a slip and fall accident?
A slip and fall occurs when a pedestrian loses footing and falls due to an issue with the walking surface. The condition of the walking area in these cases is usually referred to as defective or dangerous.
What are some common slip and fall injuries?
Various injuries to the body are possible during a slip and fall accident. Often the injuries are limited to bruising or sprains, but other more serious consequences can occur such as:
Concussion
Hip injuries
Wrist injuries
Neck and back disc injuries
Broken ankles
What should I do after sustaining a slip and fall injury?
After a slip and fall accident complete as many of the following as possible to help bolster a potential claim:
Get medical treatment for your injuries.
If possible, take photos and/or video of the area in which you fell.
If possible, obtain witness names and contact info.
Record either in writing or voice the details of your accident. For example, when did you fall? How did your fall happen? What caused your fall? What was on the ground that contributed, if at all, to your fall? How did your body fall – backwards, sideways, forwards? Did the property owner or any property employees say something to you after your fall? Take note if they revealed they had knowledge of a defect in the walkway or surface.
Keep and protect the shoes and other clothing you were wearing at the time of the fall. If you make a claim, you may need to present your shoes as evidence to refute a claim by the defendant that your slip and fall was caused by your shoes.
Contact a Maryland slip and fall attorney as soon as possible so they have the time necessary to investigate your claim before any potential evidence is lost.
I fell and was injured. Do I have a case?
Slip and fall cases are some of the most difficult cases to prove. Unlike medical malpractice cases where the medicine is difficult, or a products liability case where the science is difficult, slip and fall cases are difficult because of the laws in Maryland.
Maryland has an incredibly strict law when it comes to personal injuries; it is one of only four states (plus the District of Columbia) which has contributory negligence laws on the books. Contributory negligence means that if you, as an injury victim, contributed to your own injury in any way, you may not be able to recover any compensation at all.
Therefore, in order to prove that your injury was the direct result of a property owner's negligence, we must prove that:
The owner of the property was aware of the potential dangers of that property, and
The owner did not take steps to fix or change the areas that posed a threat, or
The owner did not provide adequate warnings about the potential safety hazards of the area
For example: if it snows, a store owner is responsible for plowing the parking lot and shoveling out any walkways to the store, so long as the owner was aware that it snowed or could have been made aware of the snowfall by reasonable means. This falls under the doctrine of constructive notice. Therefore, if you fall on the property because of the snow and ice, you may be entitled to compensation because the owner should have known it was dangerous, and then failed to warn customers about that potential danger.
However, if the owner does provide a warning and you then fall on the ice, you may not be able to collect compensation at all. Further, if a danger on someone else's property is open and obvious and you injure yourself as a result of it you may not be eligible to collect compensation.
The bottom line is you do not need to figure this out. We can figure this out for you. If you fell and suffered injury, we have free consultations. Give our skilled slip and fall lawyers a call, and we will tell you if you have a case.
The complex laws that govern slip and fall cases are why you need an experienced attorney to help you after an accident. Plaxen Adler Muncy, P.A. has helped hundreds of people throughout Maryland recover the compensation they need to aid their recovery.
Common causes for slip and fall accidents
Generally speaking, you can make a claim for damages when a property owner has exhibited negligence in regards to keeping the property safe. Failing to warn visitors about potential dangers, or failing to fix existing threats, are both grounds for a lawsuit. Some of the more common causes for slip, trip and fall accidents include:
Icy walkways and sidewalks
Wet floors or surfaces
Crumbling or broken walkways or surfaces
Broken or ill-maintained playground equipment
Broken or badly-maintained elevators or escalators
Missing or defective handrails on stairs
Poor or non-existent lighting
Strategies for a successful slip and fall claim
A common defense strategy insurance companies employ against a slip and fall claim is to claim the plaintiff was careless and that carelessness resulted in their damages. Insurance representatives may claim your advanced age (if you are older) caused the accident. Or, they may claim your injuries were the result of an earlier, or later, accident in which you were involved.
The way we can often defeat these assertions is to present expert testimony, such as the opinion of your physician, that your injuries resulted from the incident in question.
How much am I entitled to recover for my slip and fall injuries?
The circumstances of your case will dictate the amount of monetary compensation you can receive for your slip and fall injuries. Factors that determine the value of your settlement include:
The seriousness of your injuries
The length of time you suffer or are expected to suffer with the injuries
Whether or not you are expected to fully recover
If you recover quickly, you will still have a claim for compensation against the liable party, but it will likely be a smaller claim than if your recovery took longer or if you never fully recovered.
A fair level of compensation to which you are entitled under Maryland law for your slip and fall injuries includes the amount of your income loss, medical bills, pain and suffering, and other pertinent damages and losses.
Maryland's trusted authority in slip & fall cases
Plaxen Adler Muncy, P.A. protects slip and fall victims throughout the state of Maryland. We work hard to ensure that you are compensated for the negligence of a property owner. To schedule a consultation with a skilled slip and fall lawyer, please call 410.730.7737 or fill out our contact form. We serve clients in Columbia, Baltimore, Silver Spring, Towson, and throughout the state.
Related Articles