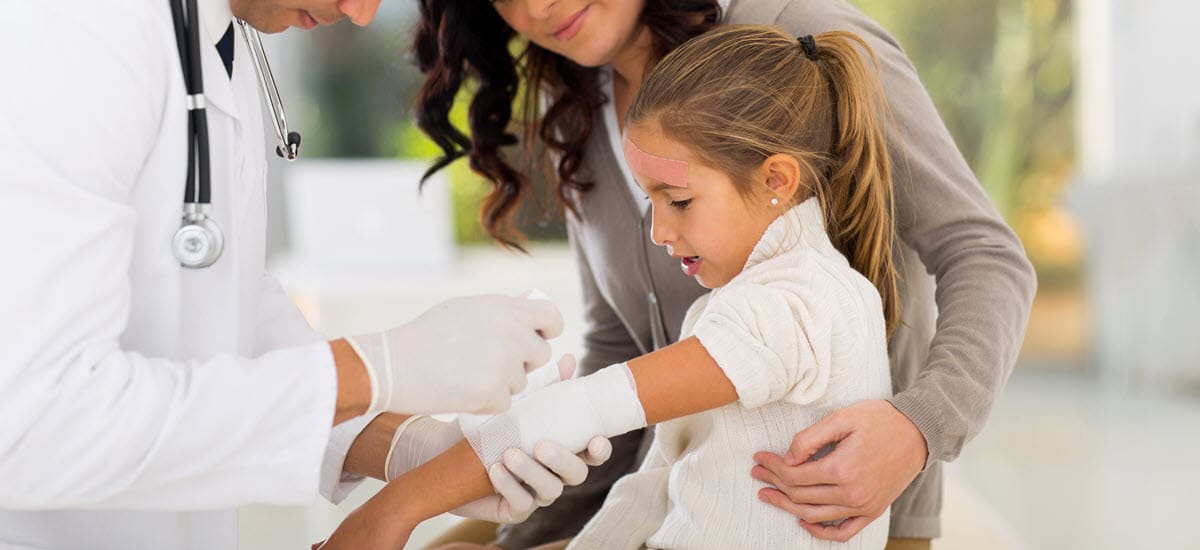 Dedicated Maryland Children's Injuries Attorneys
Protecting the legal rights of children when they are injured due to negligence
Because children are less experienced, impulsive and innocent, they can be more at risk for injuries than the rest of the population. One of the worst experiences as a parent is seeing your child hurt and in pain. It only makes it worse when your child's injuries are caused by the negligence or recklessness of another. If this happens to your family, it is important to hold the responsible party accountable for their actions, or for their failure to act when your child is danger.
The Maryland personal injury attorneys at Plaxen Adler Muncy, P.A. have decades of experience representing children injured throughout the state. We will identify the people or parties responsible for your child's injuries and pursue the compensation your child needs not just to heal, but to thrive. Look to us for compassionate support and zealous representation.
Types of child injury claims
You do not have to be a parent to know that children can get hurt in many different ways. Some are just rites of childhood – scraped elbows, bumped heads, and bruised knees. However, some injuries should not happen at all. In a nutshell, any time you place your child in the care of another, or place a product in their hands, that person or manufacturer owes you a duty to keep your child safe.
Children can experience injuries due to negligence from things like car and bike accidents, defective products, dangerous property, and improper supervision. Often, children suffer serious injury from:
It is important to remember that bringing legal action against a person or entity on behalf of a child is not exactly the same as for an adult.
Can I sue for my child's injury in Maryland?
When your child is injured due to another's negligence or fault, they are entitled to the same types of compensation as any other person, including:
Medical expenses, current and future
Emotional trauma
Loss of earning potential
Burial and funeral expenses, in cases of wrongful death
However, because a child is a minor (under the age of 18), they cannot bring a lawsuit forward on their own. Their parent or legal guardian may do so on their behalf. Although adults in Maryland have a three-year statute of limitations to file a personal injury action, for minors this extends to (essentially) the day before their 21st birthday. This does not mean you should wait to file your case. The sooner you take legal action against the negligent party, the stronger case our attorneys can build for you.
Another thing to keep in mind is that minors are not held to the same standard of negligence as adults. Although Maryland adults may be barred from collecting compensation if they are found in any way responsible for their injuries, children are not. Children under a certain age are not expected to act in the manner of a reasonable adult and may be found incapable of acting in their own best interests.
The attorneys at Plaxen Adler Muncy, P.A. work to prove that your child was owed a duty of care, and that the at-fault party failed in that duty and caused your child's injuries.
What is an "attractive nuisance"?
You may hear the term "attractive nuisance" regarding swimming pools and children. This means that if someone trespasses onto property with an attractive nuisance, the property owner may still be held liable if they do not take steps to safeguard the so-called nuisance. Typically, this nuisance is something curious to children, like a hot tub or swimming pool. Failing to fence in, lock up, or otherwise safeguard a pool can lead to drowning accidents. An owner can be held liable for any deaths or injuries – even if the victim entered the area without permission.
How can a Maryland child injury attorney help?
Determining compensation for your child's injuries is a complicated process. Their future is still in front of them and you are unsure how the accident will affect their life. Our attorneys are here to set your mind at ease. We have over three decades of experience working with clients just like you and we understand how to build a successful injury case, even when the victim is a young person.
If your child was injured at day care, camp or school, in a car or bike crash, by a defective toy, or simply because of the negligence of another, you may be eligible to recover compensation on their behalf. The attorneys at Plaxen Adler Muncy, P.A. work to prove your case by showing the other party was liable for your child's injury by proving:
They owed your child a legal duty of care
They breached that care through negligence
That breach resulted in your child's injury
That injury resulted in losses and damages
When we take your case, we fight for the rights of your child to ensure they get every cent they need to heal and move on from their injuries. We do not stop fighting until we feel justice has been served. Our track record of satisfied clients speaks for itself.
Read more:
Protecting the rights of injured children in Maryland
Injuries to children present different legal issues than other personal injury cases. The Maryland attorneys at Plaxen Adler Muncy, P.A. understand how these injuries can affect your entire family's finances as well as your child's well-being. Let us fight for the rights of your child when someone causes them harm. To learn more, or to schedule a free consultation, please call 410-730-7737 or fill out our contact form.