Graco's Latest Recall Adds to the Largest Car Seat Recall in U.S. History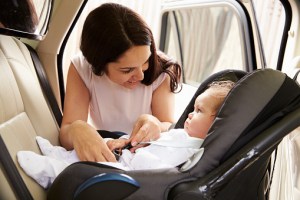 Graco Children's Products is one of the leading manufacturers of baby toys and equipment in the country. The chances are good that if you have children, you own a Graco product – most likely, one of their car seats. However, under the insistence of safety regulators, Graco has recalled 1.9 million infant car seats because of a defect that allows the buckles to "get gummed up by food and drinks, and that could make it hard to remove children. In some cases parents had to cut harnesses to get their kids out," according to Fox News.
In 2014, Graco recalled 6.1 million car seats for problems with the buckles. In February of 2016, Graco recalled another 4.2 million toddler seats because of this particular defect. Graco has fought the recall of their infant seats at every step, claiming "that infant seats are used differently [than the toddler seats], and in an emergency, an adult can remove the whole seat rather than using the buckle."
The trouble started because the National Highway Traffic Safety Administration expressed concern that the infant seats were not included in the original recall. Graco denied any problems with the infant seats, and the NHTSA "accused the company of soft-pedaling the recall with 'incomplete and misleading' documents that will be seen by consumers." In 2015, according to NBC News, the agency fined Graco three million dollars "for being too slow to report complaints." It also threatened fines this time, too.
There have been no reported injuries as a result of the recalled models.
Which models have been recalled?
All of the recalled models were made by Graco between July 2010 and May 2013. They include:
SnugRide
SnugRide Classic Connect (including Classic Connect 30 and 35)
SnugRide 30
SnugRide 35
SnugRide Click Connect 40
Aprica A30
Graco is offering to replace the buckles for free; indeed, as a sign of good faith, it has offered free replacement buckles for any Graco car seat, even those not included in the recall. Customers can find more information by going to www.GracoBuckleRecall.com, or by calling 877.766.7470.
Defective products put our safety at risk every day. If you have sustained an injury because of a defective product, Plaxen Adler Muncy, P.A. may be able to help. Please call 410-730-7737 or fill out this contact form to schedule a free consultation with an experienced Baltimore products liability lawyer to talk about your case.