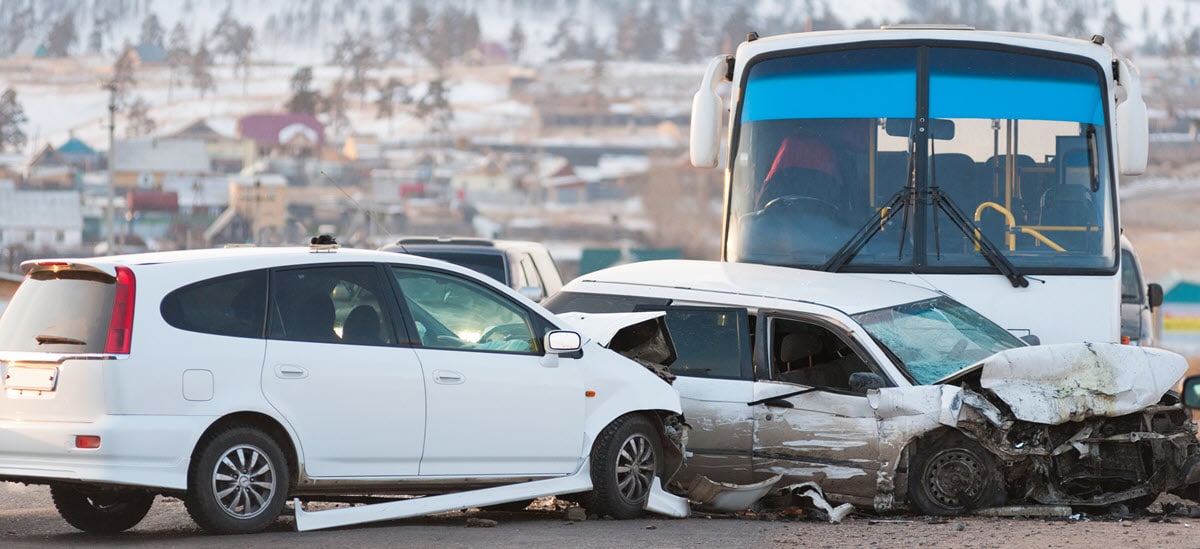 Maryland Bus Accident Attorneys
Representing clients injured by private and public bus lines and bus drivers
A bus crash can cause serious injuries to multiple people. Not only could the riders be injured, but other drivers, cyclists, and pedestrians may all suffer harm. If you were injured in a collision with a city bus, chartered or private bus, or even a school bus, it is time to call an experienced Maryland bus accident lawyer. Plaxen Adler Muncy, P.A. has represented the injured in Maryland for almost four decades. Call us today to learn how we can help you.
What makes bus accidents different from other types of vehicle crashes?
Buses – like trains, airplanes, and taxis – are considered common carriers. Common carriers owe a duty of care to the people who use them to travel from place to place. They also tend to be more complicated, because they could involve state government entities (like the Maryland Transit Administration) or federal ones (like Amtrak), or private companies like Greyhound. A lawsuit may name individual bus drivers, bus companies, or even third-party drivers with whom you share the road, which means the statute of limitations may be shorter than you would expect, or there could be multiple defendants and insurance companies involved. A crash which occurs on a federal highway may proceed differently than a collision between a tour bus and a private vehicle on a city street.
To sum up, a bus crash of any kind is bound to be a complex case. Working with an experienced Maryland bus accident attorney can ease the stress of filing a claim, because he or she will handle the insurance companies, the rental company, and the lawsuit. This allows you to focus on your recovery.
What are the most common causes of bus crashes?
Bus crashes are often the result of driver negligence. This negligence can include:
Bus accidents may also be the result of defective or faulty parts. If the steering, brakes, fuel line, or other parts of the bus are defective, then injury victims may have grounds to file a product liability claim against the manufacturer. Defective bus parts can lead to fires, rollovers, and high-impact collisions.
If the bus is poorly maintained or should have been removed from service because of faulty or broken parts, then the bus company may be held liable in a personal injury suit.
Finally, many bus accidents are the result of poor weather and/or bad roads. Ice, rain, sleet, fog: all of these are examples of weather which reduce traction and visibility. Bus drivers must adjust their driving to account for poor weather, or they risk a collision or rollover. Road defects, however, are different. Poor road design, lack of proper signage, washed out roadways, and potholes can lead to bus accidents. In these cases, the government may be responsible for injuries and property damage caused by bus wrecks.
Urban roads vs. rural roads
The number of vehicle accidents and collisions on city streets has been steadily increasing since 2016. This is largely connected to the sheer number of vehicles in urban areas. While cities like Baltimore are designed with public transportation in mind, there are several factors that can lead to a crash in a city:
Rural roads have different issues. On highways, bus drivers may be more likely to speed, or face low visibility around curves. Instead of pedestrians, it may be deer or other wildlife that run out into the road. Finally, injured bus passengers may need to wait longer to get help if there are no local hospitals or trauma centers out in the rural areas.
According to the Federal Motor Carrier Safety Administration, approximately 27,000 people were injured in bus crashes in 2018.
Injuries resulting from bus accidents in Maryland
Buses may seem to lumber, but even a low-speed collision with a bus has the potential to cause catastrophic injuries and serious property damage. Their weight and height alone make them dangerous in the event of a collision, and some models of school buses are prone to catch fire.
A bus crash can lead to:
What if my child is injured on a school bus in Maryland?
School bus drivers owe a duty of care to the students they carry. Not only must they be safe and responsible when they drive, but they must also ensure that their students are behaving, as well. If the driver ignores dangerous behavior, like kids moving in the aisles while the bus is in motion, or sticking their hands, arms, or heads outside of the windows, the driver and his/her employer (either the school district or a private company) may be held liable for any injuries your child sustains.
The same is true if your child is hit by a school bus, either while walking or while in another vehicle; both the driver and the employer can be held liable.
Shouldn't my kid's school bus have seat belts?
Maryland does not require school buses to be equipped with seat belts. There are two reasons for this:
The padded seats absorb the energy of a collision, which protects the students on impact, and
There are concerns that a seat belt may prevent children from evacuating during an emergency, like a fire.
Opinions about this are starting to change. The National Transportation Safety Board extolled the benefits of three-point seat belts in school buses in their 2018 report.
Steps to take after a bus collision
Call 9-1-1 and request medical transport if needed for you or your passengers. Local law enforcement should come to the scene to make a report.
If your vehicle can be moved, drive it to the shoulder or side of the road, and turn on your hazard lights. If the car is unsafe to move, leave it where it is and get yourself to safety, if possible.
Take pictures of your vehicle, the area where the collision occurred, and any injuries you or your passengers sustained.
Contact a Maryland personal attorney to help you with your claim.
Contact your insurance company to report the crash.
Make a follow-up doctor's appointment as soon as possible after the collision.
How much is my bus accident claim worth?
There is no set answer to how much a personal injury claim is worth; it depends on many factors, not the least of which is the severity of your injuries. However, you can file a claim for the following damages after a bus accident in Maryland:
Whether you were hurt on a city bus, a school bus, a tour bus, or a chartered bus, Plaxen Adler Muncy, P.A. can help. We will put our years of experience to work for you, negotiating the best possible settlement we can. If the insurance companies try to deny you a just settlement, we will aggressively pursue your case in court.
Maryland bus crash lawyers on your side
Plaxen Adler Muncy, P.A. has fought for bus accident victims throughout Maryland for close to 40 years. Our experienced personal injury attorneys will fight for you now. To schedule a free consultation at one of our multiple office locations, please call at 410-730-7737 or fill out our contact form.
Related Articles