IKEA Finally Recalls Dangerous Dressers Implicated in the Deaths of Three Children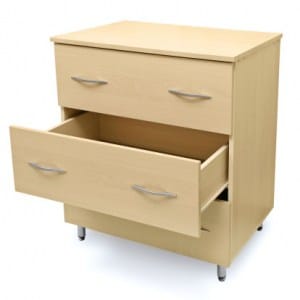 Furniture giant IKEA has recalled almost 36 million dressers and chests which have been implicated in the deaths of three children and the injuries of 19 more since 2014. The pieces are known to tip over, and lawsuits are alleging that the weight of the furniture is crushing toddlers. The recall was announced in cooperation with the Consumer Product Safety Commission (CPSC), which reports "The recalled chests and dressers are unstable if they are not properly anchored to the wall, posing a serious tip-over and entrapment hazard that can result in death or injuries to children."
This recall is the first public acknowledgement by IKEA that there may be a problem, but it is a begrudging one. Even now, the company has maintained "the recall was based on a standard applicable in North America for free-standing clothing storage units and that the products meet all mandatory stability requirements in Europe and other parts of the world," and that the products are perfectly safe when they are attached to a wall, as they are supposed to be. Kajsa Johansson, a spokesperson for IKEA, went as far to say that they have had no issues with deaths occurring in any country but the U.S.
IKEA is offering refunds or a free wall-anchoring kit to customers.
Protecting children from dangerous products
The tragic results of IKEA's defective products should serve as a warning to parents across the country: meeting minimum standards may not always be enough to keep your kids safe. The Consumer Product Safety Improvement Act (CPSIA) of 2013 put stronger regulations in place to help protect all consumers, but took particular care in the definition and regulation of children's products, specifically when intended for children aged 12 or younger. Under the CPSIA, children's products must:
"Comply with all applicable children's product safety rules;
Be tested for compliance by a CPSC-accepted accredited laboratory, unless subject to an exception;
Have a written Children's Product Certificate that provides evidence of the product's compliance; and
Have permanent tracking information affixed to the product and its packaging where practicable."
Furthermore, the Act "requires domestic manufacturers or importers of non-children's products to issue a General Certificate of Conformity (GCC). These GCC's apply to products subject to a consumer product safety rule or any similar CPSC rule, ban, standard or regulation enforced by the Commission," and that durable infant or toddler products must be registered in case of a problem.
If your child was injured because of a defective product, you have legal options available to you. Plaxen Adler Muncy, P.A. has upheld the rights of Maryland victims for more than 35 years. To schedule a free consultation with an experienced Maryland products liability lawyer, please call 410-730-7737 or fill out our contact form.
Related articles about child safety
New High Chair Standards Were Approved to Increase Child Safety