Workers' Compensation for Lifting Injuries on the Job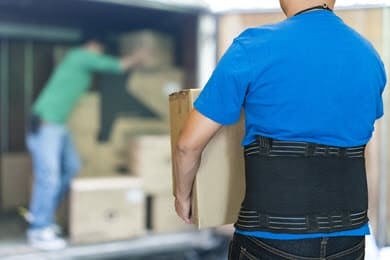 Many workers across many different industries are required to lift objects at some point during a work day. Human beings lift objects every day as a part of daily living, however not everyone observes the correct form when they are lifting, or they attempt to lift something that is too heavy, and this can lead to a workplace injury. Lifting injuries are one of the leading causes of workers' compensation claims. The U.S. Bureau of Labor Statistics reports that there were 154,180 nonfatal back injuries across all private industry in 2016 which required days away from work. If you sustained an injury after lifting something heavy at work you might be entitled to claim workers' compensation benefits.
Who is at risk for lifting injuries at work?
The BLS reports that the following types of workers were at greater risk of suffering from lifting injuries:
Nursing assistants
Laborers
Freight and materials handlers
Truck drivers
What are some common types of workplace lifting injuries?
Workers who are required to lift objects or people as a part of their daily work tasks are at greater risk for lifting injuries. The following are some examples of lifting injuries:
Strained back
Herniated disk
Rotator cuff injury
Overexertion injuries can result from lifting, twisting, and carrying motions
The Occupational Safety and Health Administration (OSHA) provides training guides and other materials for employers to train employees on how to lift heavy items without injury, given that about 36% of injuries involving missed days at work were the result of shoulder and back injuries, overexertion and trauma. Following smart lifting practices helps workers prevent injuries.
Workers compensation for lifting and other musculoskeletal injuries
If an employee suffers a lifting injury, it can have long-term consequences for them. Workers' compensation will cover the time they must miss at work visiting the doctor and resting while their injury heals. It also covers medical expenses related to the workplace accident. If the injury is permanent, the injured worker is also entitled to permanent partial disability benefits.
A worker who has been injured on the job and needs to file a claim, or is engaged in a dispute with the insurance company, may wish to consult with a Maryland workers' compensation attorney immediately so that his or her right to file a claim and receive compensation can be protected.
Plaxen Adler Muncy, P.A. represents Maryland workers who are injured on the job. If you sustained injuries in a work-related accident, you are welcome to call our Maryland workers' comp attorneys at 410-730-7737 or fill out our contact form. We offer free initial consultations and a flexible appointment schedule.