Amazon Warehouse Worker Injury Rates Are Higher Than the Company Has Reported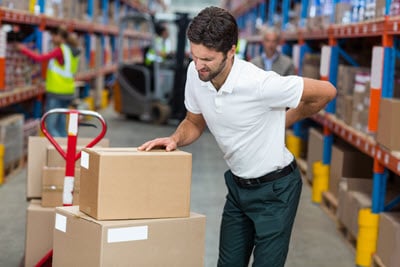 Hard, physical labor can take a significant toll on the body. Worse yet, the repetition of some motions, tight schedules and deadlines, and lack of proper safety protocols can result in serious injuries. These injuries may leave a worker unable to provide for his or her family, or result in life-long pain.
According to a recent report on Amazon warehouse safety conditions across the country, the fast pace and long hours endured by the company's warehouse employees can result in severe musculoskeletal injuries, often resulting from fatigue.
According to the Southern Maryland Chronicle:
a new cache of company records obtained by Reveal from The Center for Investigative Reporting – including internal safety reports and weekly injury numbers from its nationwide network of fulfillment centers – shows that company officials have profoundly misled the public and lawmakers about its record on worker safety. They reveal a mounting injury crisis at Amazon warehouses, one that is especially acute at robotic facilities and during Prime week and the holiday peak – and one that Amazon has gone to great lengths to conceal. With weekly data from 2016 through 2019 from more than 150 Amazon warehouses, the records definitively expose the brutal cost to workers of Amazon's vast shipping empire – and the bald misrepresentations the company has deployed to hide its growing safety crisis.
Amazon has witnessed a large increase in employee injuries over the last several years. There were approximately 14,000 injuries categorized as "serious" in 2019, meaning the injured workers needed time off, or had to be restricted in their work. (Amazon takes issue with the "serious" classification of these injuries.) "The overall rate of 7.7 serious injuries per 100 employees was 33% higher than in 2016 and nearly double the most recent industry standard."
Those numbers have been consistently higher at Maryland's North East distribution center:
2017: 9 out of every 100 workers
2018: 1 out of every 100 workers
2019: 1 out of every 100 workers
The holiday season is especially dangerous
During holiday seasons, warehouses run by Amazon spike significantly in activity. Many seasonal workers of the company are operating under mandated 12-hour shifts. The problem is especially serious at facilities that operate with robotic technology. Amazon has used robots in its facilities to ramp up operations and production rates to a degree that strains the ability of human workers to keep pace without sustaining injuries. The injury rates as Amazon's robotic sites have been rising significantly more than those at the company's traditional warehouse locations.
Do not wait to report your injuries, either at an Amazon warehouse or other labor intensive environment. You could risk losing the opportunity to recover workers' compensation, which is necessary for your medical treatment and financial stability.
Read More: Amazon Now Facing Increased Liability for Defective Products Sold On Its Site
At Plaxen Adler Muncy, P.A., our experienced team of Maryland workers' compensation attorneys is dedicated to helping you obtain the benefits you deserve for your workplace injury. If you need help with any workers' comp claim, do not hesitate to contact us. Call our law office today at 410.730.7737, or send us a message through our contact form.