The Value of Expert Witnesses in Your Car Accident Case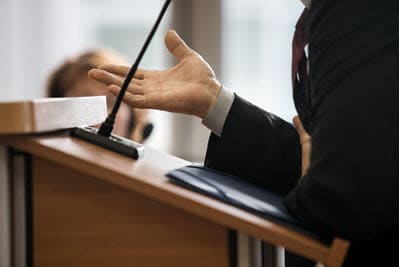 Have you suffered injuries in a car crash? If so, the burden of proof is on you to prove the liability of another party. This means you need evidence to establish fault and the extent of your injuries and their financial cost.
This can be a monumental task without an experienced car accident attorney. To achieve success, your attorney may need to utilize the capabilities of one or more expert witnesses to help prove your case. These individuals can bolster your case and increase the chances of obtaining a high-value settlement.
Expert witness vs. eyewitnesses
Eyewitnesses are people who claim to have viewed the crash or its aftermath. They are often passengers in the vehicle or nearby pedestrians. An eyewitness account can be helpful, but not all eyewitnesses are reliable.
Expert witnesses can provide even more value than eyewitnesses. Expert witnesses have education and experience to approach these cases scientifically and methodically, and can usually testify to a specific aspect of your claim. Some examples of expert witnesses include accident reconstructionists, medical experts like doctors, safety inspectors, financial analysts, retired law enforcement officials, and other field experts.
Expert witnesses fill in the blanks
Expert witnesses can fill in the gaps of your case to help prove it to a judge or jury. The court can rely on the insight and scientific basis provided by the expert to understand what happened in your accident, and how you incurred your injuries.
Car crash claims often go to trial because the insurer for the defendant is not offering a fair enough settlement for the injuries sustained by the victim. Instead, they lowball their offers so that they can increase their profit margins. Expert witnesses are highly valuable in these cases. They explain, in detail, the extent of your injuries and losses, and what kind of financial burden they will cause, to judges and juries. They create visual aids that outline exactly how the crash occurred; they may even use video from security cameras or cellphone footage to show what happened. They are the people who can read and interpret black box data from truck accidents or explain the nature of a defective part so that a jury can understand why it failed.
The Maryland car accident attorneys at Plaxen Adler Muncy, P.A. understand how just one injury in a vehicle wreck can result in much hardship, physically and financially. We are here to help you get the financial compensation to which you are entitled. To arrange a free, no-obligation consultation, give us a call today at 410.730.7737 or complete our contact form.