The World Isn't Ready for Robot Lawyers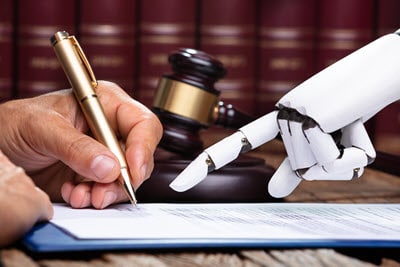 Since the beginning of the pandemic, many Americans have taken the do-it-yourself attitude to multiple aspects of their life – including their legal affairs. People have downloaded online wills and estate plans, used online scheduling programs to help with their child custody, and used programs to start their own businesses.
But a new program by a Stanford grad called DoNotPay may have taken online legal service to a new level. The app – which its creator has dubbed the first "robot lawyer" – was created to handle parking tickets and other small disputes, but now lists "sue anyone" and "fight corporations" on its list of things it can do.
How good is the robot lawyer, really?
The so-called robot lawyer has about a 50% success rate.
But what about other software? Could non-human lawyering programs be as effective as a human lawyer?
Some law professors tried to find out. In an article for Oregon Live, they explained that they partnered with "computer scientists and linguists at MITRE, a federally funded nonprofit devoted to research and development… to identify the text features of successful versus unsuccessful legal briefs." Their goal was to use machine learning techniques "to predict summary judgment outcomes from the text of the parties' briefs."
As it turns out, the software had a hard time identifying citations in some of the briefs and encountered issues picking the citations apart from the rest of the text. (The human lawyers, on the other hand, had no problems with this at all.) No one wants to put themselves at the mercy of a machine that stops working because an additional citation was added.
What the software could do, however, was help with legal research. They explain:
The scientists at MITRE used a methodology called "graph analysis" to create visual networks of legal citations. The graph analysis enabled us to predict whether a brief would "win" based on how well other briefs performed when they included a particular citation.

Later, however, we realized the process could be reversed. If you were a lawyer responding to the other side's brief, normally you would have to search laboriously for the right cases to cite using an expensive database. But our research suggested that we could build a database with software that would just tell lawyers the best cases to cite. All you would need to is feed the other side's brief into the machine.
In short, legal software may be good for actual lawyers, but it's not ready to do what your attorney can do – not by a long shot. Although there are elements of the law that are rote, the practice of law consists of a complex set of interactions between human beings. No matter how many upgrades and advancements are added to robot lawyers or DIY apps, they will not be able to duplicate human-to-human interactions.
Is DIY lawyering a bad idea?
Yes, it is – and for myriad reasons. One of the main concerns surrounding robot lawyers and legal DIY programs is the accuracy of the legal advice. It is unrealistic to believe that one app can provide accurate legal advice for every scenario in every state. At best, the app may provide a broad scope of advice that may or may not connect with your case; it is only as capable in its abilities as the human who creates it. If the program shares legal advice with a client that is incorrect, who is responsible for holding the robot lawyer legally liable? Is it a software glitch? Is it a matter of human error? Since too many unpaid tickets can lead to additional fines, license suspension, and even a bench warrant, this seems like an unnecessary risk to take. The stakes would be even higher for more serious crimes, or in cases where someone has suffered a serious injury. Do you really trust a robot to explain to a jury how a medical error led to a fatal injury?
Remember, too, that most online programs still want you to seek counsel from an attorney, because the attorneys are the ones who know the laws. You may save some money filling out paperwork online, but ultimately, you need someone experienced in the practice of law to ensure that everything goes as planned. A software error can delete files, delay the submission of the documentation, and end up causing more harm than good in the long run.
When you are injured, Plaxen Adler Muncy, P.A. is there to help. Let us put our experience to work for you. To schedule a free consultation with a human member of our team, please call 410-730-7737 or fill out our contact form. We maintain offices throughout Maryland.