Seniors and Smart Home Technology: Does It Work?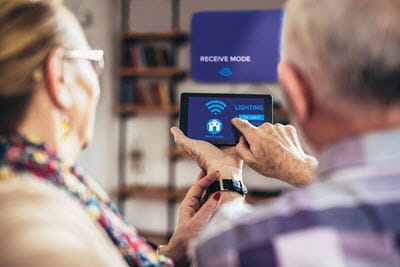 When you think of smart home technology, you do not often consider that your senior loved one or their caregiver would benefit from these products. The Washington Post, however, reports there are approximately 48 million Americans in caregiver roles and nearly half are using technology in new ways.
As the Post discusses, implementing technology into caregiving should be a choice between both the patient and the caregiver, as this does not work for every case. Some at-home tech that can help care for seniors include:
Medical alert systems, sending an alert to authorities if a patient falls.
Radar fall detectors
Emergency alert systems
Internet or Wi-Fi
Automated security systems
Video monitoring systems
In-home audio systems: You can set reminders to tell your loved one when they need their medication or have a standing appointment to meet with friends. Seniors who live alone can also use these systems to call their kids or parents, especially when they have trouble using the phone.
Kitchen monitoring technology
All-over home integration systems
There is some controversy however, with how this technology is being used. While it may be convenient for a caregiver to simply take a peek at how their loved one is doing, ethical issues do come with it. You can have all of the monitoring software in the world, but without a plan for when something happens, it may be for nothing. Another concern is invasion of privacy issues.
The goal of this technology is to ensure the safety of a loved one, but there needs to be a plan if something does occur and no one is home to help. If you have a caregiver for your loved one and they use technology but something still happens, such as a fall, you may need to contact a Maryland personal injury attorney. Our firm has experience representing seniors in claims stemming from:
What injuries are common for elderly accident victims?
While an injury victim of any age can sustain life-threatening harm in one of these scenarios, the risks are higher for older people. A senior who was perfectly capable of caring for him or herself before an accident may need a long-term caretaker now because the healing process takes longer. The more common injuries include:
Broken bones or fractures
Vision loss
Spinal cord trauma
Disfigurement
Nerve conditions
Herniated discs
After any accident, it is critical that your loved one seek medical treatment. If his or her injuries are the result of someone else's negligence, neglect, or abuse, Plaxen Adler Muncy, P.A. can help. We will investigate your accident and injuries and will begin building a solid case against the negligent party. Maryland has a three-year statute of limitations in which you have to file a claim from the date of the accident or injury. Medical malpractice claims have a five-year statute of limitations after the injury happened, or three years after the injured party discovered the injury, whichever comes first.
Compensation available in a Maryland personal injury claim
There are generally two forms of compensation to which your loved one may be entitled when you file a personal injury claim; economic damages and non-economic damages. These include:
Medical expenses
Lost wages
Loss of future earning capacity
Pain and suffering
Loss of consortium
Tangible items, such as medical expenses and lost wages, are economic damages. Pain and suffering and loss of consortium are considered non-economic damages.
The time after an accident can be scary and chaotic. If you are injured in your home or at the hands of a caregiver, you have options. You do not need to live in fear or in pain. Plaxen Adler Muncy, P.A. has been helping accident victims throughout Maryland for 37 years, and we can help you too. Choosing the right attorney is crucial to your case. Call us at 410-730-7737, or submit our contact form to schedule an initial consultation at one of our various Maryland office locations.