Filing a Lawsuit for Sexual Abuse by the Clergy in Maryland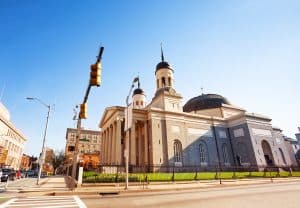 In April, Governor Wes Moore signed the Child Victims Act of 2023. Since then, we've seen many questions from Marylanders who are curious to know more about this law, and if they have a potential lawsuit on their hands. We want to answer some of those questions before the law goes into effect on October 1, 2023.
What changes under the new law?
The new legislation will allow victims of childhood abuse to file a claim no matter how old they are or how long ago the sexual abuse happened. In addition, the new legislation will raise the compensation amount that child abuse victims may receive from filing a lawsuit against private institutions up to $1.5 million and up to $890,000 when filing a lawsuit against the State of Maryland.
What if the person who sexually abused me as a child has died, resigned, or left the church/institution?
If it has been a long time since your sexual abuse occurred, you may find out that the priest or member of the clergy has died, resigned, or left the church/institution. However, it is important to know that this does not prevent you from being able to file a lawsuit. The institution and the individual are both responsible for what happened to you, and our lawyers will gather evidence that we can use to prove this. If the person is no longer alive, we will file a claim against the institution for allowing abuse to happen to you while you were under their care or on their property.
Does it matter if the sexual abuse did not happen at church?
People who abuse children and other individuals often do so in spaces or areas that they think they will never be caught or accused of committing these acts. Therefore, if your sexual abuse did not happen in a church, you can still file a lawsuit against the responsible parties. Some other places where child sexual abuse often occurs includes:
Schools
Camps
Sports facilities
Extracurricular clubs and activity locations
Is the Child Victims Act of 2023 limited to only clergy abuse?
While the Child Victims Act of 2023 came about after reports were released stating that church leaders have been covering up their child sexual abuse for over 80 years, this legislation is not only limited to clergy abuse. Anyone who is affected by child sexual abuse can file a lawsuit under this Act. All you have to do is meet these qualifications:
You must be a survivor of child sexual abuse by anyone.
Or you must be a guardian, parent, or estate representative of a person who was sexually abused as a child by anyone.
What counts as abuse for this type of lawsuit?
According to Maryland's Family Law §5–701, sexual abuse includes the following:
Obscene and pornographic photography
Prostitution
Incest
Rape
Sexual offenses in any degree
Unnatural or perverted sexual practices
If you were touched inappropriately or in a sexual manner by another person as a child, it is recommended that you speak with our personal injury lawyers at your earliest opportunity. We will help you determine if you have a potential claim and the type of evidence that we may need to support your argument.
When should I file a sexual abuse lawsuit in Maryland?
You should confer with an attorney regarding filing a claim and the legal process. Though the new law goes into effect on October 1, 2023, you shouldn't wait to speak with an attorney, because preparations for your case can happen before filing.
The reason for this is because the institutions and individuals who caused you pain and suffering should be held accountable for their actions. The Maryland sexual abuse attorneys at Plaxen Adler Muncy, P.A. will not only support you, but we will guide you through the entire legal process, making sure that you know your legal options and everything happening with your case.
If you were sexually abused as a child and are ready to hold the responsible parties accountable for their actions, please get in touch with Plaxen Adler Muncy, P.A. today. Since 1985, our firm has helped victims tell their stories, and we are dedicated to helping you do this too. We will advocate on your behalf as well as ensure that you get the closure you need to move forward with your life. Call our office or submit our contact form to schedule a free case evaluation at one of our many Maryland office locations as soon as possible. Virtual consultations are also available for your convenience.