The I-95 Collapse Has Triggered a Disaster Declaration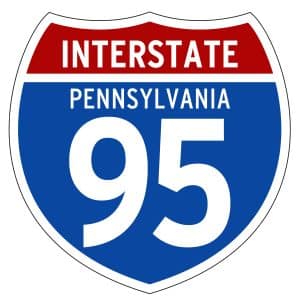 It's like something out of a post-apocalyptic horror movie: early Sunday morning an elevated portion of I-95 in Philadelphia collapsed, causing massive destruction to the roadway and the surrounding areas. Local residents talked of the flames and black plumes of smoke.
The collapsed triggered a disaster declaration by the governor. President Biden has been briefed and Secretary Buttigieg is working with the Federal Highway Association and Governor Shapiro about next steps.
At this time, state and federal agencies are working to determine the cause of the collapse, but there's a good chance it's related to the tanker that went up in flames underneath that section of interstate. NBC News reports that a tanker carrying 8,500 gallons of petroleum product caught fire – no one knows how or why yet – and remains buried under the rubble. The fate of the truck driver is unclear, but thankfully there have been no other reported injuries or deaths with this devastating collapse.
Could a tanker fire really trigger the collapse of a highway?
It could. If the tanker was carrying natural gas (and multiple news sources are reporting it was), then the heat of the fire could have caused this damage:
So, it appears yes – a tanker fire, especially one that was concentrated in one spot for a significant amount of time, could certainly collapse a bridge or overpass.
How dangerous are our nation's bridges and overpasses?
Fireproofing older roadways, interstates, and bridges is a time-consuming and costly project. Back in 2007, a tanker truck crashed and exploded on an overpass in Oakland, CA. The heat of the flames damaged 170 feet of an overpass. It was able to do this level of damage because "most major highway bridges and overpasses are not fireproof and probably never will be." Per the New York Times:
Fierce fires [that can warp steel and collapse highways] are considered anomalies in the structural engineering world. While car and truck fires occur regularly, they most often damage the pavement on bridges, not the network of steel supporting them.
Although many recently built connectors and overpasses have much of their steel encased in concrete to protect them from the elements, it is not unusual for some of the steel, particularly in support beams underneath, to be exposed. And concrete, while affording some insulation, can crack and break up when exposed to extreme fire, too.
[….]
"It is not like there is a bridge design that would withstand this kind of thermal load," Dr. Seible [dean of the engineering school at the University of California, San Diego, and chairman of the State Department of Transportation's seismic advisory board] said, calling the Oakland overpass "a very common and economical type" of design.
Applying fire-resistant materials to bridges and overpasses, engineers said, would substantially drive up costs for a rare event.
All told, these types of fires cause at least one bridge collapse a year. The Philadelphia Inquirer analyzed bridge collapse data between 1980 and 2012 (the most recent data available). There were 30 collapses over those 32 years, and found "13 were made of steel, like the one that collapsed Sunday on I-95. Concrete bridges tend to be more fire-resistant, but they are not immune, and accounted for five of those 30 failures."
According to the American Road & Transportation Builders Association (ARTBA), about one in three bridges in the country is structurally deficient, and 29% of those bridges are on interstates. Though the total number of dangerous bridges has decreased slightly in the last few years – 47,054 bridges needed repair in 2018, down to 42,951 in 2022 – that's still significant number of roadways and bridges which are dangerous.
How Maryland's bridges compare
Compared to other states, Maryland's bridges are safer: "of the 5,456 bridges in the state, 251, or 4.6 percent, are classified as structurally deficient." Ten of those structurally deficient bridges are on interstates, however, which means we could potentially suffer an I-95 collapse of our own. ARTBA provided the following data about our bridges:
There are 2,135,062 daily crossings of structurally deficient bridges in Maryland.
About a third of them – 702,583 – involve an urban interstate.
Baltimore, Prince George's, Washington, and Frederick Counties are home to the most traveled structurally deficient bridges in Maryland; most of these bridges are on I-70.
The estimated cost of repair for all of the bridges combined is $4.8 billion. Maryland "is expected to receive approximately $4.7 billion over five years in federal funding for highways and bridges" under the Bipartisan Infrastructure Law.
What happens if someone is injured in a structural collapse?
This is a complicated issue, and one that likely can't be adequately explained in one blog post. In general, structural collapse claims have a lot of moving parts, and there could be multiple liable parties. It depends on what happened and where. There's a big difference between making a claim with a county because you were injured in a car crash involving a pothole and making a claim because a major highway bridge collapsed.
A case stemming from the I-95 collapse would, therefore, be complex. One the one hand, if the tanker exploded and that caused the collapse, then there could be some liability there. On the other hand, the collapse involved a federal interstate, which means that if a claim is even possible, it would need to be made under the Federal Tort Claims Act.
Can I file a claim if I'm injured in a truck fire in Maryland?
Yes, you can. If you sustained injuries because a tanker, an 18-wheeler, or any other commercial truck caught fire, you have legal options:
Plaxen Adler Muncy, P.A. is a premier personal injury law firm serving Maryland. To learn more about our services, or to schedule a free consultation with one of our personal injury lawyers, please call or contact us.