Baltimore Washington Medical Center May Have Used Counterfeit or Defective Spinal Hardware in Some Patients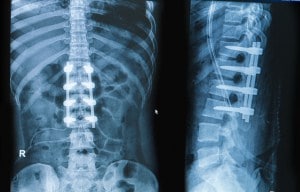 The University of Maryland's Baltimore Washington Medical Center is one of many hospitals throughout the country that may have inadvertently used hardware that was not approved by the FDA in surgical procedures. According to the Baltimore Sun, the now-closed Spinal Solutions, LLC may have sold the medical center fake devices to be used in spinal fusion surgeries. This is not the first time the company has engaged in questionable behavior: "Spinal Solutions LLC… was cited in 2012 by the U.S. Food and Drug Administration for quality control problems. The following year, the company recalled parts used in lower spine fusions, specifically saying that some had been distributed in Maryland."
The hospital has already sent out 250 letters to patients who may have been affected by the hardware. To date, no one appears to have responded to the letters. Multiple insurers throughout the country have brought a lawsuit against the hospitals that used these counterfeit parts and then overbilled the insurers for them. They also allege that doctors have accepted hundreds of thousands of dollars in exchange for using Spinal Solutions' products. Dr. Randy Davis, a spinal surgeon at the Baltimore Washington Medical Center, "is accused of accepting $458,962 in payments, largely in consulting fees. In return, the suit said, the hospital bought in excess of $1 million of implantable hardware from Spinal Solutions delivered by private aircraft," as reported by the Sun.
Potential dangers of counterfeit hardware
The parts in question – screws and rods – are what allow surgeons to fuse discs together during the procedure. By today's standards, the screws and rods should be made out of titanium, which is stronger and lasts longer. It appears that the false hardware was "insidiously co-mingled" with real hardware, and is made of stainless steel. If the products fail, it could take longer for a patient to heal, and there is a risk of the screws or rods dislodging. That means a patient would require a second surgery to fix the problem, leading to more pain and higher medical bills.
Thankfully, this type of fusion surgery is not done often, which limits the number of people it could affect. Those who are affected, however, might have to live with permanent effects from damage done by Spinal Solutions' products.
If you underwent spinal fusion surgery at the University of Maryland's Baltimore Washington Medical Center, you may be forced to have another surgery to correct a problem stemming from defective spinal hardware. We invite you to contact the Baltimore medical malpractice lawyers at Plaxen Adler Muncy, P.A. to learn more about your rights.