Hit-and-Run Car Accidents in Maryland – What to Do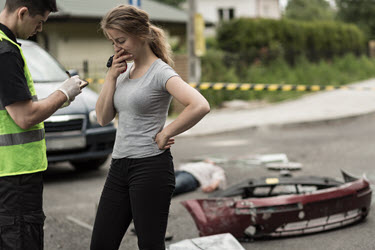 Every year, over 1000 Americans are killed in hit-and-run accidents. The National Highway Traffic Safety Administration (NHTSA) reports that the rate of these hit-and-run crashes is increasing across the nation. Throughout the three year spanning from 2014 to 2016, the NHTSA recorded a nearly 30 percent increase in fatal hit-and-run accidents. In 2016, 2049 people were killed in hit-and-run crashes. An astonishing 68 percent of these deaths were suffered by non-vehicle occupants (i.e. pedestrians and bicyclists).
Immediate aftermath of a hit-and-run
After hit-and-run crash occurs, victims suffering the aftermath can experience various immediate symptoms including confusion, shock, and an overall feeling of being dazed. What you do and how you react in the first initial moments after one of these crashes is crucial to help you move forward past the incident.
If you have been hit by another vehicle, and the driver of the vehicle flees the scene, here are some important immediate steps to take.
Call 911 for the police and medical emergency services
The first step is to call 911 immediately, or if you are unable, have someone else who is able make the call. As you wait for the emergency help to arrive, try to remember the features of the vehicle that hit you and fled the scene. Important features include a license plate number, vehicle type and model, color, and any other defining characteristics. One or more of these features you can recall may help locate the vehicle and identify the driver.
After law enforcement arrives, they will collect the information they need, assess the damage involved, and produce a police report. It is vitally important that you obtain the medical care you need for your injuries.
Move to a safe location away from physical danger
If the aftermath of the crash has left you in the middle of the road and you are physically able to move to a safer location you should do so. If it is physically possible without suffering additional serious injury, move to the side of the road, a sidewalk, driveway or some other location away from oncoming traffic.
Gather important information and evidence
Again, as you are physically able, it is important to compile as much information as possible about the crash that has just occurred. Take photos, speak with witnesses and obtain their contact information. One witness observing the crash from a different perspective can make all the difference in the success of your case.
If you or someone you love is recovering from a hit-and-run crash you need to know how to move forward and receive the compensation you deserve for your injuries. As a premier law firm serving the state of Maryland, Plaxen Adler Muncy, P.A. is here for you at this difficult time. We can employ our knowledge, experience, and resources to help you secure the financial resources you are owed to help you recover from your losses. Call us today at 410-730-7737 or use our convenient contact form to arrange a free case evaluation.