Occupational Lung Disease and Workers Compensation in Maryland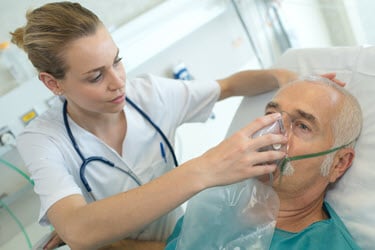 The quality of your breathing dictates the quality of your life. When you develop a lung disease after occupational exposure to certain types of dust, toxic chemicals, fumes and other particulates, you may be able to recover workers compensation for your injuries. There are several different types of occupational lung diseases, and there are certain industries and occupations where a worker might be more at risk for these diseases than others. The American Lung Association reports that occupational lung disease is one of the biggest causes of occupational illness. While many of these diseases come about as a result of long term, consistent exposure, even a single exposure to a toxic agent can damage the lungs and lead to disease.
Industries or occupations with a higher risk of acquiring an occupational lung disease
Construction
Manufacturing
Agriculture/ farming
Coal mining
Medicine
Textiles
Cleaning
Education
Automotive repair
Transportation
Mining
Fire fighting
Baking
Bar tending
If you work in one of the industries mentioned, you can take the initiative and use personal protective equipment and learn about the health hazards in your workplace, and encourage your employer to help decrease the risks.
What are the symptoms of an occupational lung disease?
Some of the most common symptoms of any lung disease include the following:
Coughing
Shortness of breath
Chest pain
Chest tightness
Abnormal breathing pattern
The challenge is that these are also symptoms of other medical conditions. If you work in an environment where occupational lung diseases are common, if you develop these or other troubling symptoms, it is important that you see your doctor and receive a diagnosis.
Can you receive workers' compensation for occupational lung diseases?
The Maryland workers' compensation program includes temporary partial disability benefits, medical/hospitalization benefits, vocational rehabilitation benefits and death benefits for workers who lose their lives in workplace accidents. Workers may be diagnosed with occupational lung disease such as:
Asthma
Black lung disease
Mesothelioma
Asbestosis
Pneumoconiosis
Silicosis
Byssinosis
If the cause of the disease arose in the course of employment, you may qualify for workers' compensation benefits.
If you should encounter a dispute with your employer's insurer or with the Maryland Workers' Compensation Commission, our lawyers are here to represent you.
Plaxen Adler Muncy, P.A. is proud to represent workers who have been injured on the job. If you sustained injuries in a work-related accident, we invite you to call our Maryland workers' comp attorneys at 410-730-7737 or fill out our contact form. We offer free initial consultations and a flexible appointment schedule.