What Should I Look for in a Disability Lawyer?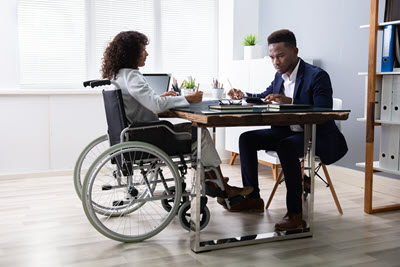 Disability benefits provide a much needed lifeline for individuals and families whose serious medical conditions leave them unable to work. The approval process for these benefits, however, can be difficult. Hiring an experienced Maryland Social Security Disability attorney is a smart move, because your lawyer can help you avoid the pitfalls that cause so many applications to be rejected.
But which lawyer do you hire? There are some things you should consider when you are looking at potential disability attorneys.
Track record and area of skill
You will need a disability attorney with a strong track record of experience handling disability cases and appeals, including those which result from catastrophic injuries. Your lawyer should have extensive knowledge about the rules and regulations of the Social Security Administration (SSA), and be able to provide effective advice and legal representation to obtain your benefits. This is important because so many claims are rejected. Working with an experienced attorney can reduce that risk of having your claim kicked back.
You also want an attorney who knows what to do if your claim has been denied before, or if you need representation during a hearing. Trial experience could be beneficial to you.
Dedication and availability
You need to look for an attorney who has the time you need for proper focus and attention on your Social Security Disability case. Your attorney should be available for questions and consultation throughout the entire process, regardless of the issues or complications at hand.
Disability attorneys often work alongside other team members at a law firm, which is beneficial. If your primary attorney is with another client, there will be a team member available to answer your questions or schedule your next appointment. At a minimum you should work with an attorney who will return your call promptly after you leave a message.
Reliability and professionalism
You can get a good idea of the professionalism and dependability of your potential disability attorney from your first phone call. If you are treated on that call with courtesy and respect, that is one important factor to consider when making your decision to hire. You should expect to continue to receive polite communication, prompt response, and intelligent advice about your case, from beginning to end.
Can I afford a Maryland Social security Disability lawyer?
Under federal law, attorney fees are capped at 25% of back pay for disability claims, and cannot exceed $6,000 in total for any back benefits. Your lawyer is paid directly by the SSA from those back pay benefits. Since these cases are taken on contingency, it could cost you nothing to hire an attorney to help you with your claim.
The road to recovering disability benefits in the aftermath of a catastrophic injury or after a protracted illness can be long and complicated. At Plaxen Adler Muncy, P.A., our Maryland disability attorneys have the experience to ensure your case is presented in the most effective way possible so you can move forward with the financial resources you need to recover. To arrange a free consultation about your case, give us a call today at 410.730.7737 or reach us through our contact form.