Tesla Recalls Vehicle Equipped with Full Self-Driving Beta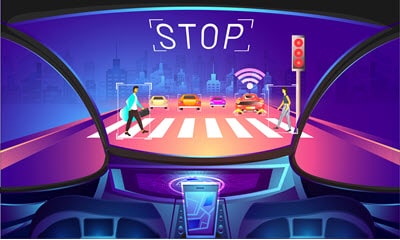 Tesla is under fire yet again for their "innovative technology" which actually turned out to be dangerous. The company sent out a recall for 53,822 of its vehicles due to issues with the vehicle performing rolling stops at intersections when it should be coming to a complete stop. While there have not been any crashes reported attributed to this feature malfunction, it does in fact increase the risk of accidents occurring. If your vehicle does not stop when it is supposed to and there is oncoming traffic, you may be unable to react appropriately and be caught in a collision.
Tesla intends to do an over-the-air software update that will disable the rolling stop feature. Because the design of the feature causes unreasonable safety risks, it is also not compliant with the Vehicle Safety Act, according to Gizmodo. This is not Tesla's first recall and it is unlikely to be the last. It seems as though every month they are issuing recalls for their vehicles. We wonder if these recalls are so common, shouldn't Tesla be doing more before putting their product on the market to consumers, and if they will ever face real consequences for their actions?
Vehicle recalls and product liability
It seems as though Tesla designers are blatantly disregarding the safety of their drivers and other drivers on the road. They are negligent in their actions and it does not seem as though they are facing any real consequences. If you are injured because of a defective vehicle, you can take legal action against the negligent parties with the help of a Maryland product liability attorney. There are three legal theories we will explore with your case.
Negligence: Most personal injury claims are based on negligence. Product liability cases are no different, you and your attorney must prove that your injury was caused by a defective product.
Breach of warranty: This legal theory delves into the marketing and labeling of a product and if there was a breach in that warranty that caused your injuries.
Strict liability: In this legal theory you do not need to prove negligence, but only that an injury was caused by the product. It must be shown that the product was left unchanged from the time it was purchased.
Auto manufacturers, like Tesla, can be held negligent when their products are designed with defects that put drivers at risk.
Common defective products
There are many different defective products on the market and you may be wondering what you can do. If you have been injured by a product, you will need to keep the product, take pictures of the defective product, and seek medical attention. The Consumer Product Safety Commission reports over 300 products are recalled each year. Some of these products include:
Contaminated food
Defective baby items like cribs, car seats, and strollers
Power tools and electrical items
Hip implants
While Tesla is currently under fire, many other car manufacturers have similar features that can also cause hazards and injuries to their drivers and those on the road.
What are product defects?
There are several ways that a product can be defective and lead to a product liability case. It is important for your Maryland product liability attorney to determine which kind of defect caused your injury.
Design defects: When the initial design of a product causes an injury, the designer can be held liable. This is typically the company that owns the design and worked on it before it reached the manufacturing stage.
Manufacturing defects: If a manufacturer does not follow the design explicitly or cuts corners, this can lead to a defect. The manufacturer will be the negligent party in these types of cases.
Marketing defects: Advertisements for new incredible and life-changing features are often how consumers make their purchasing decisions. However, if the marketing of a product is misrepresented and the product does not work how it was intended, the marketer or seller can be held liable for the defect.
If you have been injured by a defective product, including a Tesla, you will need an experienced attorney on your side fighting for your rights. We will work to get you the compensation you deserve after an injury or accident that wasn't your fault. Call Plaxen Adler Muncy, P.A. at 410-730-7737, or submit our contact form to schedule a consultation at one of our various Maryland locations.