SUVs Are Lacking When It Comes to Back Seat Safety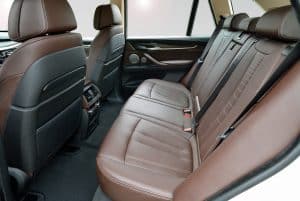 Many people with children trade in their small passenger vehicles for larger SUVs, thinking that these larger vehicles will provide better protection for themselves and their children if an accident were to occur.
However, a disturbing news report is bringing awareness to the fact that SUVs do not offer adequate safety for individuals riding in the back seat during a crash. Several of the most popular SUVs used across the United States were given low ratings for their back seat safety.
According to a study conducted by the Insurance Institute for Highway Safety (IIHS), the safety of front seat passengers is prioritized more than back seat passengers. As a matter of fact, the president of IIHS stated that "manufacturers have put a lot of work into improving protection for drivers and front-seat passengers." While this is good news, back seat occupants still face the risks of extreme danger when a collision occurs.
The back seat is where people with families place their children who are smaller and more likely to be severely injured in a car accident. Therefore, most parents expect the back seat to protect their children and keep them harm-free during an accident. However, the back seat only has rear and side airbags to protect back seat passengers, meaning that there are no front airbags. In addition, IIHS found that the "seat belts generally lack crash tensioners and force limiters." This is extremely alarming for parents who have been continuously told that the back seat is the safest place for their children to ride in the vehicle.
What are some causes of back seat passenger injuries?
Although SUVs and other vehicles are lacking when it comes to back seat safety, there are several other factors that may contribute to back seat passenger injuries. Here are a few common factors:
Back seat passengers are more likely to lie down, sleep, or sit improperly when the car is in motion.
Back seat passengers often believe that they do not need to wear a seat belt. This comes from the incorrect belief that the back seat is safe.
Many times, three or four back seat passengers will squeeze into the back seat area even though there are only two or three seats.
With the increasing use of rideshare services, such as Uber and Lyft, many back seat riders are not using their seat belts because they think that their rides are too short to need one.
The most common injuries that back seat passengers may suffer
There are many different injuries back seat passengers may suffer. However, the most common injuries typically include:
Chest injuries
Broken or fractured bones
Severe bruising
Punctures to the lungs or heart
Internal bleeding
Internal organ damage
Eye injuries
Cuts or lacerations
Herniated discs
Paralysis
How to take action against auto manufacturers
If a vehicle's back seat failed to keep you or your child safe during a car accident, the results were most likely devastating. At Plaxen Adler Muncy, PA, we believe in holding negligent auto manufacturers accountable for the harm they cause back seat passengers. When you purchase a vehicle, you expect it to keep you and your loved ones safe. Therefore, when a manufacturer fails to uphold their duty, they may be found negligent and liable for the injuries and losses suffered.
Our Maryland product liability attorneys will help you determine if the manufacturer breached their duty of care and caused your injuries and losses. If they have, you may be eligible to file a claim against them. We will be glad to sit down with you and listen to what happened to you or your loved one. After our team learns the details of your case, we will help you determine the types of losses you may claim, collect evidence, and prepare a strong argument against the manufacturer. The following are a few of the losses that our clients typically claim:
Medical costs
Lost wages
Property damage
Loss of enjoyment of life
Loss of companionship
Pain and suffering
Mental trauma
Funeral or burial costs
Home modifications
Rehabilitation
Counseling
If you were injured while riding in the back seat of a vehicle, you are encouraged to contact one of our Maryland product liability lawyers at Plaxen Adler Muncy, PA today. We can answer any questions or concerns you may have as well as help you determine if the manufacturer of your vehicle is responsible for your injuries. Schedule a free case evaluation by filling out our contact form. We have multiple offices throughout the state of Maryland and welcome you to visit anytime you need assistance with a legal matter.