HealthExtras Disability Claims & Refunds Lawyers
HealthExtras May Have Sold You a Worthless Insurance Policy
If you purchased Accidental Disability Insurance from HealthExtras, you may be due a refund of premiums or monies for a disability claim they denied. HealthExtras and their underwriters – AIG insurance, Federal Insurance, Chubb Insurance and National Union Fire Insurance Company, to name but a few –offered affordable catastrophic injury insurance that supposedly protected you and your family for up to $1 million, and all it cost was $9.25 per month on your credit card. The HealthExtras' insurance policies each have incredibly restrictive language to define catastrophic injuries and compensable claims.  The restrictions are designed to prevent payment of claims.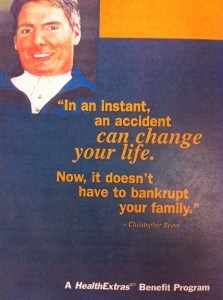 There were class-action lawsuits being filed around the country against HealthExtras. Plaxen Adler Muncy, P.A. is currently accepting cases involving HealthExtras' denial of claims and claims that seek refunds of premiums paid.
Don't let HealthExtras and their underwriters get away with their deceptive insurance practices. Call Plaxen Adler Muncy, P.A. today for a free consultation. You'll pay no attorneys' fees unless we are successful. There may be time limits for when you can file, so please contact us today.
Update on Class Action Settlement Fund
On April 27, 2017, the United States District Court District of New Jersey granted Final Approval of the Settlement for certain class-action plaintiffs. More than 135,000 Proof of Claim Forms were submitted to the Settlement Administration, and are in the process of being processed. Qualified class action members are expected to receive their payments from the fund in November 2017.
Refunds for Premiums Paid
If you have made payments for this disability coverage, you may have wasted money on a useless policy.  You certainly have not gotten what you thought you purchased.  If you have been misled in the purchase of your disability insurance with HealthExtras, you may be entitled to a full refund of your premiums.  This purchase most likely came through a credit card offer. Contact Plaxen Adler Muncy today for a free consultation concerning your rights to a REFUND.
Their underwriters may include Federal Insurance Company, Stonebridge Life Insurance Company, National Union Fire Insurance Company of Pittsburgh, AIG Insurance Company or any number of other underwriters.  You may also recognize one of these names as a broker or agent of your policy; The Sklover Group, Catalyst, Catalyst Health Solutions, JLT Services, Alliant Insurance Services, Chubb & Sons, LOTSolutions or ChartisClaims, Inc., formerly known as AIG Claims Services, Inc.
Disability Claims
If you purchased Accidental Disability Insurance from HealthExtras or one of their underwriters and you filed a claim with HealthExtras for a catastrophic disability and were denied that claim, please call Plaxen Adler Muncy, P.A. at 410-730-7737. We are Maryland's premier personal injury law firm, and we have extensive experience handling claims against unfair companies like HealthExtras and their underwriters.  We may be able to obtain the benefits you are entitled to receive under your disability policy.
Did You Buy a Policy? Contact Us.