Fatal Bus Crash with Tractor-Trailer in Clinton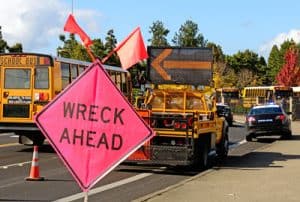 A fatal bus crash occurred this morning on southbound Branch Avenue at Surratts Road in Clinton, Maryland. According to Price George's County police, there were multiple vehicles involved in the collision, including a tractor-trailer. At this time, it is reported that one woman has died, and eight people have sustained injuries.
The bus was on its way to Charles H. Flowers High School when it collided with the commercial truck. A car was trapped between the two vehicles; the driver of that car died in the crash. Per WTOP, there were 4 other vehicles involved in the collision, for a total of 7 vehicles. Two teenagers were injured at the scene, though there were no students on the bus.
This is a dangerous intersection
Prince George's County Police Chief Hank Stawinski told NBC Washington that the intersection of Branch and Surratts is a dangerous one, due to the way the road slopes. Stawinksi compared the roadway to the bottom of a bowl, and said "If you're texting while driving, if you're not buckled up, this is one of those places that because of the geography you can have worse outcomes."
As of this time, the collision is still under investigation and no one has determined a cause. A HAZMAT team was called out to the scene because the truck tipped over in the crash, spilling debris in the road.
Our hearts go out to the family and loved ones of the victim, and we wish a safe and speedy recovery for all those who were injured in the crash.