Almost 110,000 People Died Waiting for Social Security Disability Appeals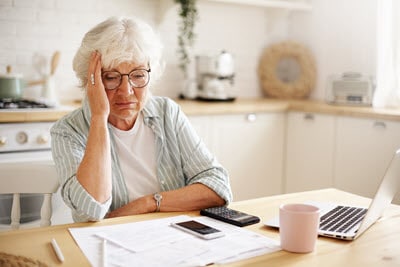 Social Security provides millions of Americans who are unable to work due to disabilities the financial benefits they need. However, as a new report from the Government Accountability Office (GAO) reveals, the SSD application process for many potential recipients is nothing short of a bureaucratic nightmare.
Individuals who apply for Social Security Disability benefits are usually rejected on the first attempt. Many individuals, however, win their case on appeal. But a report by CBS news detailing the results of the GAO report shows that between 2008 in 2019, just short of 110,000 people died while waiting on an appeal to their SSD claim after receiving an initial denial for benefits.
The SSI and SSDI appeals process
After applying for SSI or SSDI, the Social Security Administration (SSA) makes a determination to approve or deny the benefit request. The process involved includes the SSA making an evaluation of the applicant's medical condition and the type of work here she is able to perform with the condition. After filling out the required application paperwork and sending it to the SSA, the response time for decision can seem like an eternity. After waiting many months for a decision, you may still receive a denial letter. This happens to about 1 million SSD applicants each year.
There is a five-step appeals process you may enter into if your application is denied. You can first request a redetermination. This process in Maryland often takes at least four months. If you again receive a denial of your appeal, you can appeal that decision to an administrative law judge (ALJ). If you are denied by the ALJ, you can appeal again to the SSA Appeals Council. The last and final appeal you can make if you are denied by the Council is to a federal district court. Rarely do SSD benefit cases make it this far.
The disability backlog
According to the GAO, in 2015 the backlog of appeals had slowed down to wait time averaging about two years and three months. However, by last year, the average wait time dropped significantly to approximately one year and four months, about a 333-day shorter wait time than the previous year.
The concern presently is that the COVID-19 pandemic will facilitate an increase in applications for Social Security Disability, which would likely lengthen the appeals process once again. According to a June report by the Center on Budget and Policy Priorities, these concerns center on the number of families whose loved ones suffered long-term disability from the effects of coronavirus, the likelihood of increased claims for survivor benefits, and the trend for Disability applications to increase during a recession.
If you have been denied Social Security Disability, or if you are seeking to appeal an SSA decision, Plaxen Adler Muncy, P.A. can advocate on behalf of you or your loved one for the benefits you deserve. To set up a free case review with an experienced Maryland SSDI attorney from our team, give us a call today at 410-730-7737, or use our contact form to send us a message.