All Chevy Bolt Vehicles Recalled Due to Potentially Fiery Defect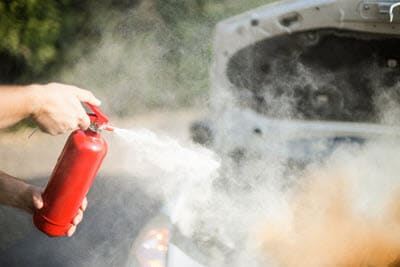 There is not a group of vehicle owners more stressed out than owners of the Chevrolet Bolt electric vehicles. They are currently worried about when and if their electric vehicle is at risk of catching on fire – even while the vehicle is parked. This fear stems from the recent battery defect that was identified in a second recall issued by General Motors.
The car manufacturing company issued its first recall in November of last year, believing the initial battery defect to be resolved. Once two electric vehicles whose battery modules were replaced in the first recall were set on fire, the company issued a second recall to establish the correct defect in the battery module.
What is the battery defect that is behind the second recall?
According to GM, "the problem consists of two LG manufacturing defects (a torn anode tab and folded separator) that, in rare circumstances, can simultaneously present in a single battery cell in the LG battery module."
When either or both defective auto parts are present, it can cause the batteries to short, increasing the risk of a fire. Per Ars Technica:
The Bolt's battery packs are made up of pouch-type cells, which are essentially layers of cathodes, anodes, and separators that are flooded with liquid electrolyte and encased in a flexible polymer pouch. The torn anode tab… would create a projection in what should be an otherwise flat battery. The projection brings the anode closer to the cathode. "And that would probably be OK if the separator was where it was supposed to be" [Greg Less, technical director of the University of Michigan's Battery Lab explained].

But in problematic Bolt batteries, the separator wasn't where it was supposed to be. Separators are placed between the anode and cathode to prevent the two electrodes from touching. A torn tab wouldn't necessarily be an issue on its own because the separator would prevent any projection from bridging the anode-cathode gap. In cells with a folded separator, though, the gap would be missing from at least part of the battery. If the anode bridges the gap, Less said, "you have a short, and it's all downhill from there."
What actions has General Motors taken during the second recall?
General Motors expanded its second recall to include Chevrolet Bolts with the model years through 2022. To date, the company has reported 12 Chevrolet Bolts that have caught fire while the vehicles were parked. The company has publicly apologized to all Bolt owners and announced plans to replace all defective batteries in the near future. The date that all battery modules plan to be assembled for repairs remains unknown. The company also included an eight-year, 100,000-mile warranty on all new battery modules.
While Bolt owners wait for General Motors and its battery supplier, LG Chem, to produce a safe battery module for repair, the company recommends that owners follow these three steps:
Keep the electric vehicle charged up to 90 percent,
Prohibit the battery from draining below a range of at least 70 miles, and
Prohibiting overnight charging or parking the car in a garage.
What should I do if I am injured by a car fire?
Aside from the risk of burn injury – and the potential for permanent scarring as a result – a vehicle fire can also lead to toxic smoke inhalation, which can cause long term damage to your throat, mouth, lungs and respiratory system. If your vehicle's engine catches on fire while you are in the vehicle, you can make a claim for damages for any injuries you sustain, including:
Medical expenses
Lost wages
Pain and suffering
Loss of consortium
Property loss
You can make a product liability claim against the manufacturer or retailer if the car engine fire was the result of a defective part. If the engine fire was the result of something else, we can determine who is liable for your injuries.
You can trust us to protect your rights when you've been injured because of a defective product. Please call Plaxen Adler Muncy, P.A. at 410-730-7737, or complete a contact form to schedule a free consultation. We serve clients throughout the state of Maryland for defective product injuries and damages.