Dementia and Financial Abuse in Nursing Homes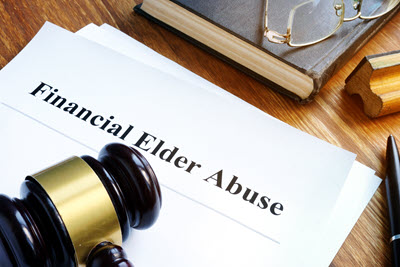 Financial abuse is a form of elder abuse where an older person is financially taken advantage of by friends, family members, or nursing home staff. Unethical people like telemarketers and fraudsters also make a habit of financially exploiting the elderly through telemarketing scams.
One of the most unfortunate aspects about financial abuse against the elderly is that it is one of the hardest forms of abuse to notice; many elders can be financially abused for years before the perpetrator is caught. In cases where the elder person suffers from conditions such as dementia or Alzheimer's, he or she is likely in a position where someone must manage finances for them, making him/her especially vulnerable to this type of abuse.
What are some examples of financial abuse of nursing home residents?
When it comes to nursing home residents, one of the most common types of financial abuse involves stealing money or valuable items from a resident's room. Because nursing home residents may need assistance with day-to-day activities, like bathing, dressing, eating, or more, multiple people may be allowed to enter the room at any given moment. Residents may feel that their items are safe in their own room, but the open access makes it easy for the perpetrator to steal. If the resident has dementia, it is easier to say he or she is mistaken or misremembering where something is.
Less blatant but just as insidious is mismanagement of funds. Writing unauthorized checks, shopping with the resident's money, and paying one's own bills from the resident's accounts are all examples of financial abuse that can be committed by a nursing home or by a relative of the resident.
Another form of financial abuse against a nursing home resident involves tricking the resident into transferring money or some other asset without the resident realizing it. Staff may fool residents, especially those with memory issues and cognitive decline, by pretending to be a relative who needs money, or tricking the elder into signing forms that transfer the ownership of a car, bank account, or other financial asset without the elder's consent.
What are some warning signs of financial abuse?
If your loved one is in a nursing home – especially if the residence is far away or out-of-state – you must be vigilant when it comes to protecting your loved one's finances. Some of the signs of financial abuse include:
Missing checks or bank statements
New accounts that have suddenly been opened in the resident's name
Forgeries on checks and other legal documents
Changes to the elder's power of attorney
Credit card balances that are higher than usual
Changes to the resident's spending habits
Letters from collection agencies or past due notices from creditors
Your loved one may also be more reluctant to talk about money, exhibit signs of stress or anxiety, or express fear when certain caregivers enter the room. If you have legal authority to care for your loved one's finances, you should order a credit check and speak with your bank and your attorney about how to address red flags.
You should also contact your Maryland Long-Term Care Ombudsman for Assisted Living and Nursing Home Residents. Every county has its own Ombudsman, who serves as an advocate for the elderly throughout Maryland. You can access the information here.
If you believe your loved one is being abuse or neglected, you can also report the nursing home to the state. You can find our instructions for how to report abuse here.
If you or a loved one has been the victim of nursing home abuse, Plaxen Adler Muncy, P.A. can help. Our attorneys represent clients throughout Maryland, including nursing home residents whose loved ones live out of state. Contact us today, or call 410-730-7737 to schedule a free consultation.