I Was in a Truck Accident – Can I File a Claim Against the Trucking Company?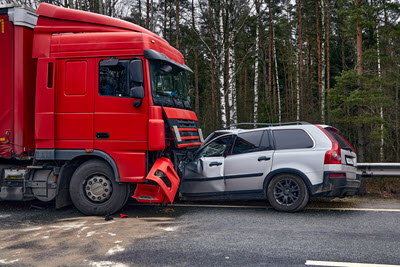 Just driving next to a heavy-duty truck can be frightening. The sound, the size, the wheels – it is intimidating. Experiencing a collision with an enormous truck is more than scary; it can be emotionally and physically devastating for the driver and occupants of a passenger car, who tend to be the fatally or seriously injured victims in truck accidents.
The Insurance Institute for Highway Safety (IIHS) asserts that large trucks usually weigh 20 to 30 times more than passenger vehicles, are taller than cars, and have greater ground clearance than their smaller road partners.
The IIHS reports that "In 2020, 4,014 people died in crashes involving large trucks. Fifteen percent of these deaths were truck occupants, 68 percent were passenger vehicle occupants and 16 percent were pedestrians, bicyclists, or motorcyclists."
Causes of truck accidents
The IIHS and the Highway Loss Data Institute (HLDI) conducted research studies that found truck crashes were twice as likely to happen when fatigued truck drivers had been behind the wheel for more than eight hours. Studies also concluded that defective equipment often plays a part in truck crashes, especially defective brake problems.
The United States Department of Transportation Federal Motor Carrier Safety Administration (FMCSA) performed the first Large Truck Crash Causation Study using data on crashes between April 2001 and December 2003. The top 10 factors for truck crashes at that time were listed as follows:
Brake problems
Traffic flow interruption (congestion, previous crash)
Prescription drug use
Traveling too fast for conditions
Unfamiliarity with roadway
Roadway problems
Required to stop before crash (traffic control device, crosswalk)
Over the counter drug use
Inadequate surveillance
Driver fatigue
Since then, the FMCSA has made a variety of truck accident data available on its website, including information on "critical precrash events" and the severity of the injuries. Based on the most recent data from 2019 and 2020, many of these initial concerns – drug and alcohol use, issues with brakes and tires, driver fatigue, speeding – are still the primary causes of truck accidents and driver citations today.
Do I file a claim against the truck driver or the trucking company?
Liability is always difficult to determine. An experienced Maryland truck accident attorney can help to prove liability in your case. Blame may be shared by many in a truck accident.
The truck driver and the company may be liable in an accident, especially if the driver was negligent. The company who hired the negligent driver has an obligation to hire and train dependable truck drivers. If the company owns the truck and it has not been maintained, or does not meet safety standards, the company may be to blame for lack of maintenance and upkeep.
Other entities may share liability as well.
If the truck's cargo contributed to injuries or death, the shipper may be responsible.
If weight distribution was a factor in the incident, those who packed the truck and the company they work for may also be accountable.
Other companies involved in truck maintenance, recruiting drivers, performing drug tests, or repairing trucks may also be responsible in a truck crash.
And finally, the manufacturer of the truck or truck parts could share in the blame if the incident was caused by mechanical failure or misuse.
What if I'm the truck driver?
If you are the one driving the truck, you may be unable to sue your employer if you are injured in a truck accident; instead, you would make a claim for workers' compensation benefits. However, if a third-party is responsible – like a manufacturer of a defective brake – you could potentially file a product liability lawsuit. Plaxen Adler Muncy, PA can assist you in any scenario.
What should I do if I'm in a car accident with a truck?
As with any accident:
Stay calm and remain at the scene.
Make sure you are in a safe place on the roadway.
Call 911 if you or someone else appears injured, as sometimes injuries arise days after the initial incident. This will ensure that police come to the scene to make a report, too.
Document the accident by taking photos and/or video.
Talk to witnesses if you are able.
Exchange licenses and insurance information with the truck driver and others involved in the accident.
Call your insurance company.
Follow up with your doctor.
If you have suffered any loss or an injury, you will want to speak with an experienced Maryland truck accident attorney
An accident or collision with a truck may be a truly traumatic experience. If you or a loved one has experienced or suffered due to an accident with a truck, the personal injury attorneys at Plaxen Adler Muncy, PA can help. For more than 35 years, our firm has been the premier personal injury law firm in Maryland, and we have defended our clients' best interests in the face of insurance companies and trucking companies who put profits before people's safety.
At Plaxen Adler Muncy, PA, our lawyers treat every truck accident with diligence and determination. We use accident reconstruction experts to build cases, and petition trucking companies for their black boxes and video recordings that are present in their trucks, to obtain crucial evidence in accident lawsuits. To schedule a free consultation with an experienced Maryland truck accident lawyer, please call 410-730-7737, or submit our contact form. We proudly serve clients throughout the state of Maryland.