Staffing Shortages Affect Quality of In-Home and Residential Care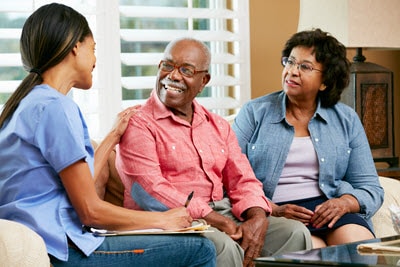 Many people search for alternative care for their loved ones outside of the traditional nursing homes and senior care facilities. For elderly adults with physical or age-related disabilities who want to maintain some form of independence, residential care facilities have always been the default choice. But opinions are starting to change.
The pandemic contributed to the shift from choosing nursing homes to choosing in-home, long-term care. Last year, the number of individuals seeking home care services increased while the number of individuals seeking nursing home facilities decreased. However, there is one issue that plagues both long-term residential care and nursing home care: the lack of available staff.
How are staff shortages affecting long-term residential care services?
A recent survey by the National Center for Assisted Living reported that 96 percent of assisted living providers and 99 percent of nursing homes are dealing with staffing shortages. Although there is a spiked interest in the number of individuals who want to receive long-term care services, there are not enough employees available to provide those services.
The staffing shortage has forced every home care facility to either request their current staff to work overtime or take on additional shifts. These types of conditions cause an additional strain on an already-taxed workforce, leading to job burnout.
What are some of the reasons for the staff shortages?
Nursing home and assisted living providers believe that the workforce challenges and the lack of qualified employees have contributed to the recent staff shortages. Allison Roenigk Cibrorowski, president and chief executive officer of the association LeadingAge Maryland, said that the home care industry is not an easy industry to work in.
A person has to be passionate and genuinely care to continue to work in the industry because there are easier places to work. Even raising wages has not resolved the staffing shortage problem because of the competitive pay from other industries such as housekeeping. Other industries have offered employees large sign-on bonuses that the home care industry cannot compete with.
How has the home care industry tried to tackle the staffing shortage problem?
Several organizations have implemented several methods to help with the staffing shortage problem. The Maryland Department of Health practiced flexibility in the hiring process by offering to pay "legally responsible individuals" for personal assistance services and relaxing the hiring and training requirements. Other states have become more flexible in their hiring and training requirements to allow more home-care services.
For example, Alaska permitted providers to hire family caregivers as direct service employees, including providing in-home support. Washington increased the number of locations where home-care services can be provided, adding hotels and churches to those locations. Colorado lowered the age limit for long-term residential care employees from 18 to 16. Some states are toying with the idea of making these temporary changes in long-term residential care permanent.
Has legislation helped tackle the staffing shortage problem in long-term, in-home care?
In an effort to increase the number of long-term, in-home care employees across the state, the General Assembly passed a bill this year that created a direct care workforce grant program under the Maryland Department of Labor. Another form of legislation that plans to assist the home care industry is the American Rescue Plan Act, which raises the federal share of the state's spending on home-based services by ten percent for one year.
Lawmakers are also considering the idea of partnering home care and childcare services together. Ciborowski stated that because the majority of home care staff are women who have experience taking care of their own elderly family members or children, partnering home care services with childcare services could help to reduce the strain. Although there are some organizations who are interested in adding childcare spaces to part of their retirement communities, those organizations face regulatory barriers.
Still, some organizations have decided to include multigenerational care services to their facilities. Lawmakers have spoken to a hospital that is in the process of opening a childcare center on its campus in an effort to resolve the staffing shortage problem. The Delmarva Community Services is also about to display its Intergenerational Center that provides daycare, senior center, and a developmental disabilities center.
There are countless reasons why nursing home neglect occurs. Nursing homes have an obligation to provide quality care for their residents as they receive funding from the federal government that is contingent on their meeting certain quality standards. Regardless of the safeguards in place, nursing home facilities still fall short.
The Maryland nursing home negligence attorneys at Plaxen Adler Muncy, P.A. provide comprehensive representation to injury victims throughout the state. If your loved one has suffered abuse or neglect in a nursing home throughout Maryland, we want to help them by fighting on their behalf. Please call 410-730-7737 or complete our contact form to schedule a free consultation with a member of our team.