Dangerous Pacifiers Recalled for Choking Hazard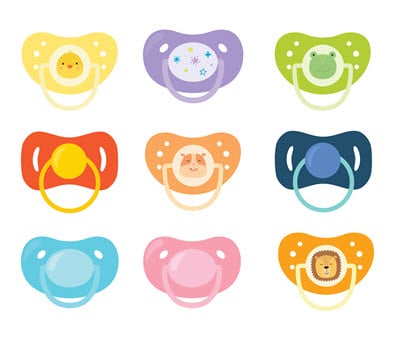 When you purchase a baby product you assume it is safe for your child. The last thing you would expect is for your baby to choke from using their pacifier. Mushie & Co announced in January, however, that it would be recalling its FRIGG pacifiers for this very reason.
This announcement comes after over 200 reports of the pacifier falling apart and becoming a choking hazard after the base of the silicone nipple detached from the plastic shield. Luckily, this issue was caught before any injuries were reported or any lawsuits were filed by a product liability attorney.
The recall refers to two different FRIGG pacifiers; the Daisy and the Classic. The designs are very similar except for the shield on the Daisy being scalloped instead of round. Customers are being told to contact Mushie & Co for a full refund or a store credit. They must send a picture of the pacifier to the company for a refund to be issued, as well as destroy the pacifier. The pacifiers were sold beginning in April 2021 until December of 2021.
Types of product defects
The first factor to be considered in a Maryland product liability case is determining which kind of product defect occurred. There are three main types of product defects.
Marketing Defects: These kinds of defects occur when a product is misrepresented, or there are no warning labels placed on the product.
Design Defects: As the name suggests, these defects are caused by the initial design. It alleges that the design was improperly planned and that is what caused the defect to occur.
Manufacturing Defects: This kind of defect relates to how the product was made. If the design was not followed or there was a mishap with one of the machines that made the product, it would constitute a manufacturing defect.
An experienced product liability attorney can help determine what type of defect caused your injury or damages. It is also important to note how you were using the product when you learned about the defect. If you were not using the product as it was intended, you may not be able to file a claim. Your Maryland product liability attorney can consult with you about all the details of your case.
Proving product liability cases
Once your attorney has determined which kind of defect your claim falls under, they will then need to prove the elements of the case. There are three main legal theories that are critical for succeeding with product liability cases.
Strict liability: This legal theory requires proof the injury resulted from the use of the unchanged product. If the product was altered after purchase, you may have trouble filing a claim.
Negligence: In a personal injury case, you may be required to prove negligence; meaning you show the product caused an injury and that the company failed to provide a duty of care when they made the product.
Breach of warranty: This kind of case requires proof that the product did not meet the terms of the warranty.
You do not need to prove these elements yourself but should instead work with a Maryland product liability attorney to do so. Each case is different and each of these theories will be explored to determine which best suits your particular circumstances.
Common defective products
Hundreds of product recalls occur each year and you might be shocked to find the kinds of products that can end up defective. Some of the most common include:
Defective hip implants
Contaminated food
Recalled drugs
Defective power tools and electrical items
Cribs, strollers, and car seats
There are many other potentially hazardous products but these are just some of the most common. If you or your child are injured while using a product as designed, you do not have to bite the bullet and suffer. Instead, contact an attorney to guide you through your legal options. Plaxen Adler Muncy, P.A., is well-versed in handling product liability cases, including class action suits.
We will gather all the necessary evidence to build a strong case. We will work to prove that the negligent actions of the product designer or manufacturer directly caused your injury. We will work diligently to get you the compensation you deserve after an injury. Call our office at 410-730-7737, or complete our contact form to schedule an initial consultation at any of our various locations throughout Maryland.