Is Enough Being Done to End Distracted Driving in Maryland?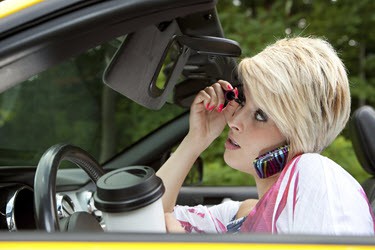 Maybe you have experienced this scenario recently on the road: You are driving behind a vehicle on your way home, or to school or work, and notice the car in front of you is drifting back and forth close to the edge of the lane. As you take a closer look, you see the person with a cell phone in hand, texting, reading, or talking. This example of distracted driving, although many times leaving only a brief scare, can result in tragic consequences.
According to a recent survey conducted by AAA, close to half of the respondents admitted to distracted driving with a cell phone. As it concerns texting, 78 percent of these respondents admitted it is a serious threat to safety on the roadway.
The tragic statistics about distracted driving in Maryland
On average every year, about 158 residents of Maryland are killed in vehicle crashes that involve distracted driving. A driver can be distracted in various ways. However, texting with a cell phone, diverts the driver's eyes away from the road in a highly dangerous manner. A simple five second glance at a text while traveling at 55 mph means that the driver's eyes are not on the roadway while the vehicle travels the entire length of a football field.
Although some progress has been made in addressing the issue of distracted driving in recent years, there's a question as to whether enough has been done. In Maryland, between 2012 and 2016, the number of crashes due to distracted driving rose from 52,625 to 56,280. The only positive from these statistics is that deaths due to distracted driving fell from 246 to 179 during the same period.
This does not represent significant amount of improvement considering all the recent efforts to inform drivers through the media about the dangers of texting while driving. Maryland is only a microcosm of the national problem of distracted driving. According to the National Highway Traffic Safety Administration (NHTSA), across the nation in 2016, distracted driving incidents claimed the lives of 3,450 people.
One of the mindsets that must be changed among many drivers is that a brief distraction, whether from texting or otherwise, is not that dangerous. However, many drivers who lost their lives in serious accidents likely thought the same thing until their fatal crash.
Failed recent legislative efforts to increase distracted driving penalties in MD
In 2017, law enforcement personnel in Maryland wrote up 31,286 citations for distracted driving offenses. Although many people, including state legislators are taking the problem of distracted driving seriously, the recent failure of a measure to increase the penalty for driving with a cell phone in hand puts the overall commitment of lawmakers to address the issue in question.
The House passed a version of the bill that would increase the penalty to $500 from the existing tiered system of penalties for first, second, and subsequent offenses, the maximum of which currently calls for a $175 penalty (third and subsequent offenses). The Senate, however, passed another version, and the two chambers could not reconcile their differences in time prior to the end of the 90 day legislative session.
Plaxen Adler Muncy, P.A. is committed to helping you recover the right amount of compensation you are owed if you have been injured in a car crash. We can help you obtain justice and the financial judgment you need to help you cover pressing expenses at this difficult time. To schedule a free, friendly, no-obligation consultation about your case, call us today at 410-730-7737, or fill out our contact form.