Maryland Man Killed After Collision with a Metro Bus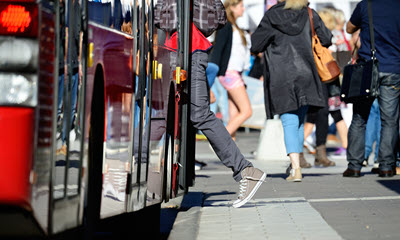 A Clinton, MD resident recently lost his life when his vehicle crashed head-on into a Washington Metropolitan Area Transit Authority (WMATA) Metro Bus. A police report stated that on January 21, Marion Dante Fields, age 24, was driving a Nissan Altima when he collided with the Metro bus around 11:53pm.
According to the police report, the Metro bus was moving eastbound on Benning Road NE in Washington DC when it began to make a left-hand turn onto Minnesota Avenue NE. Fields was driving westbound in the opposite direction when his car swerved into the left lane and collided with the bus head-on.
Although authorities transported Fields immediately to a nearby hospital, medical personnel were unable to save his life. Two passengers in his car were taken to hospitals for non-life-threatening injuries.  Additionally, the police report noted that the "Major Crash Investigations Unit of the Metropolitan Police Department is investigating the collision. Police ask anyone with information about this incident to call 202-727-9099 or text a tip to the MPD's text tip line at 50411."
Why bus accidents happen
Collisions with buses can cause much more damage than typical car crashes, and can occur for any number of reasons, including a bus driver's negligent driving, another driver's negligence, or defective parts on the vehicle itself. Other causes can include:
Distracted driving
Driving under the influence
Drowsy driving
Failure to follow traffic signs and signals
Reckless driving
Common injuries from bus accidents
Bus accident injuries can include:
Broken bones
Lacerations and cuts
Soft tissue injury
Whiplash
If you are in a vehicle crash, depending on the extent of your injuries, you may find yourself facing massive medical bills, months of recovery, and the inability to earn a paycheck. With these types of physical injuries, it is crucial you have an attorney who understands the full extent of your injuries and the amount of compensation you need now and in the future.
If you are injured in a collision with a bus
If you or a loved one suffer injury in a crash with a bus – whether you were a passenger on the bus or a passenger in another vehicle – it is important to protect your right to compensation in the event of legal action. Your first priority is getting immediate medical attention for your injuries. If you fail to see a doctor, not only are you putting your health in jeopardy, but you may also lose valuable evidence for your personal injury case. Document everything, and then speak to an experienced Maryland personal injury attorney before you come to any agreement with the insurance company or with the other side's attorneys.
The lawyers at Plaxen Adler Muncy, P.A. have more than three decades of experience protecting victims of bus crashes. If you or a loved one have suffered injuries due to the negligence of another driver, our Maryland injury attorneys can help. To schedule a free consultation about your case, give us a call today at 410-730-7737 or use our contact form.