Silver Spring Workers' Compensation Lawyers
Representing Montgomery County employees injured on the job
Employees in Maryland work hard every day – on construction sites, in offices, at retail stores, driving trucks – doing their part to continue strengthening our economy. Workers provide their specialized skills and time, and in return companies provide them wages and benefits. Most of the time this contract works out pretty well. However, sometimes an employee gets hurt on the job and things get complicated.
Our job is to ensure you're compensated properly and fairly for your injuries and that you understand all your rights as an injured employee. We can answer all of your questions about the workers' compensation process in Maryland and discuss the specifics of your case. The Silver Spring workers' compensation attorneys at Plaxen Adler Muncy, P.A. can go over any concerns you may have, including denial of benefits appeals.
Workers' compensation benefits in Maryland
It's important to remember that when you file for workers' compensation, you are not suing your employer. Instead, you're filing for benefits under your employer's workers' compensation insurance plan. Filing for workers' compensation is crucial so you may protect your right to benefits, and ensure your medical needs are met.
Max awards for 2020
Right now, the maximum weekly payment for temporary total disability and permanent total disability is $1,080.00. Depending on your exact circumstances, you may not be entitled to this much weekly pay. However, you cannot exceed this amount.
Permanent partial disability benefits are also capped, but the amount you are entitled to receive depends on the year when you were injured. Please see this chart from the Maryland Workers' Compensation Commission for a full explanation, or call us to learn more.
Temporary partial disability is set at 50% of your average weekly wage- and wage-earning capacity, but cannot exceed 50% of the State Average Weekly Wage.
Serious disability benefits are set at 75% of you weekly wage, but cannot exceed 75% of the State Average Weekly Wage.
Death benefits are based on factors involving the level of dependency of the person or person making the claim.
Types of workers' compensation benefits for injured Silver Spring employees
Most workers in Maryland are eligible for workers' compensation benefits when they're injured on the job. Employers with more than one employee are required to carry this insurance in the event of work-related accidents and illnesses. Depending on the circumstances and severity of your injury, you could be eligible for the following types of workers' compensation benefits:
Temporary total disability. You're eligible for this benefit if you can't work at all because of your injury. If you're disabled for less than 14 days, benefits kick in after three days. If you're disabled longer, benefits start the first day of disability.
Temporary partial disability. If you're not totally disabled, but are currently earning less due to your injury, these benefits make up the difference.
Permanent partial disability. When you're left with any kind of permanent disability, you're eligible for a certain number of weeks of compensation. You can still work and receive benefits as compensation for permanent injury.
Permanent total disability. If you're completely and permanently disabled from your accident, or lose the use of both arms, both eyes, both feet, both hands, both legs; or a combination of any two of the following: an arm, eye, foot, hand or leg you're considered permanently and totally disabled and receive compensation as such.
Medical benefits. Workers' compensation also covers your medical expenses from your injury or illness, including doctor visits, medication, surgery, crutches, nursing services, and other bills related to your accident.
Vocational rehabilitation. If you cannot return to the job or position you held before your injury because of restrictions from your injury, you're entitled to new job training services to find work you're able to perform.
Death benefits. If your loved one dies in a workplace accident, as their spouse or dependent, you may be entitled to death benefits. These include coverage of funeral expenses and a percentage of the employee's earnings.
Current details on the Maryland workers' compensation program are available here.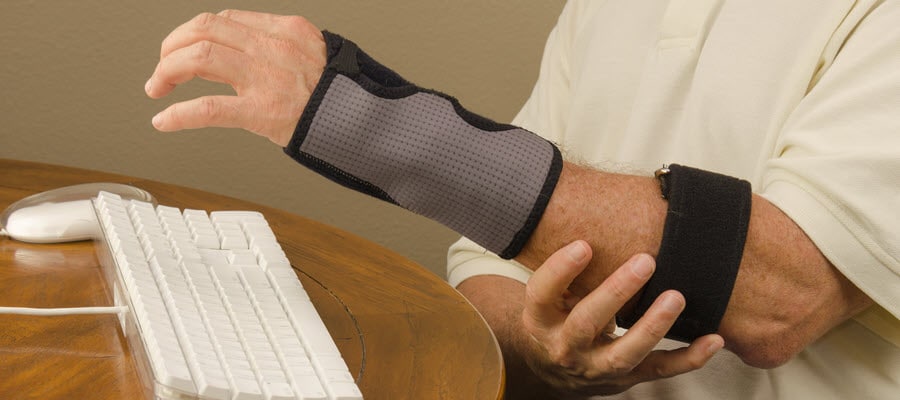 Types of workplace injuries in Silver Spring
No matter what type of work you do and where you do it – a hospital, an office, a job site, or a hair salon – there are hazards that come along with every job. For example, construction workers tend to see more trauma-related injuries, where office workers usually develop more repetitive stress injuries like tendonitis or carpal tunnel syndrome.
Our Silver Spring workers' compensation attorneys can help employees with injuries like the following:
Back injuries. Workers can suffer back injuries from lifting heavy objects or boxes. They can also injure their backs if they slip or fall on the job.
Repetitive stress injuries. Repetitive stress injuries, as their name implies, happen over time, due to repetition. When motions like typing or hammering are performed every day for years, it can cause injury – sometimes serious enough to require surgery.
Traumatic brain injury. Brain injuries result from blows or trauma to the head. These can happen from being struck by an object, falling, construction or warehouse accidents, or car accidents.
Machine-related injuries. Large equipment, like those found in factories and warehouses, can cause catastrophic injury or death if they malfunction or another accident occurs.
Overexertion and muscle injury. When you use the same muscles day after day, like bending, climbing, and twisting, a worker can suffer tissue and muscle injuries.
What is an occupational illness or disease?
You don't have to experience a sudden injury to be eligible for workers' compensation. It also covers occupational illnesses contracted or aggravated in the workplace. These can come from toxic and harmful substances in the work environment. Some conditions and illnesses include:
Asbestosis
Lead poisoning
Mesothelioma
Occupational asthma
Pneumoconiosis
Toxic dust syndrome
Silicosis
Skin diseases
How a Silver Spring workplace injury attorney can help
At first glance, the workers' compensation process might seem simple. You get hurt, you see a doctor, you tell your job, and you collect benefits. Unfortunately, it's not always that easy.
Suffering an injury or developing an occupational illness on the job can turn into weeks, months, or years of disability. If you've recently been hurt on the job, you likely have a lot of questions about your medical bills, how you're going to get paid, and how you and your family will pay your household expenses. Working with an attorney on your workers' compensation claim is smart, as filing papers improperly or missing a deadline can cause your claim to be delayed or rejected. An experienced lawyer can also help you put together an organized and well-executed appeal should your claim be denied.
Our legal team helps make sure you get the benefits and compensation to which you're entitled. Whether your claim was denied, you believe your settlement offer is unfair, or you feel you are being rushed back to work before you're completely healed, we can help.
Call our Maryland workers' compensation lawyers today
You work hard to pay your bills and provide for yourself and your family. If you're injured on the job talk to the workers' compensation attorneys at Plaxen Adler Muncy. We can help you with your claim and work to ensure you receive all of your benefits. To set up a consultation in our Silver Spring office, call 301.596.1133 or fill out our contact form.