What to Do If You Are Involved in a Hit and Run Accident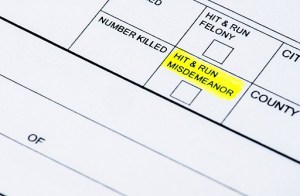 Part of the privilege of driving is the responsibility to drive in a manner that respects the safety and wellbeing of the other drivers with whom you share the road. When you get involved in a car crash, common decency and the law dictates that you should stop and make sure that the other party or parties involved are safe and that you exchange contact information with one another in the event that there was property damage or injuries.
On Monday, February 15, there was a rear-end crash that occurred at 10 p.m. on eastbound Rte. 100 beyond Magothy Beach Road. The woman in the vehicle that was struck from behind remained on the scene and was able to snap a picture of the other vehicle before it fled the accident scene. The police who responded to the accident shared the photo on social media and encouraged anyone who recognized it to call with information, according to a story in the Baltimore Sun.
Penalties for fleeing the scene of an accident with property damage
According to Maryland law, drivers are to remain at the scene of an accident that involves bodily injury, death or property damage, and they have a duty to render reasonable assistance to anyone who is injured in the crash. If any of the injured require medical attention, they must arrange for the transportation of that person to where they can receive the care that they need. A driver involved in a car crash also has an obligation under the law to give their contact information, vehicle registration information, show his or her license and insurance information, and obtain the same information from the other parties involved in the crash.
If there is not a police officer present, the driver must find the closest local police department and report the accident. Failure to file an accident report when there has been property damage, injury or death could result in a suspended or revoked license and vehicle registration. Penalties for a hit and run with property damage or bodily injury include a fine up to $3,000 or imprisonment for up to one year or both. For fleeing the scene where there is a death, the fine could be up to $5,000 or imprisonment for up to five years or both. (MD Transp. Code Title 20, and Title 27-101)
Tips for what to do at the scene of a car crash
If you find yourself involved in a car crash, there are a few things that you must do in order to comply with the law:
Pull your car off the road and park it in a safe location close to the scene that does not block traffic (if it is still drivable).
Check on everyone and make sure that no one is hurt. If someone has been injured, you have a legal obligation to summon help immediately. Dial 911 even if you think the injury might not require an ambulance.
Seek medical attention for yourself if you have been injured.
Call the police. You are required by law to file a police report about the accident.
Exchange contact information, license plate numbers and insurance information with the other drivers.
Take pictures of the accident scene and any injuries you may have suffered.
Get contact information for any witnesses to the accident.
Leaving the scene of an accident is a criminal offense rather than a traffic infraction and it carries serious consequences when the perpetrator gets caught. If you have been injured in a hit and run car crash, you may be able to take legal action against the responsible party once they have been apprehended.
At Plaxen Adler Muncy, P.A., we are a premier personal injury law firm with a focus on protecting the rights of accident victims throughout Maryland. If you have been injured in a car crash with a hit and run driver, we can help. You are welcome to contact us to find out more about our services, and to schedule a free consultation with an experienced Maryland auto accident attorney.